This Week's Best eLearning News and Articles (Issue 164)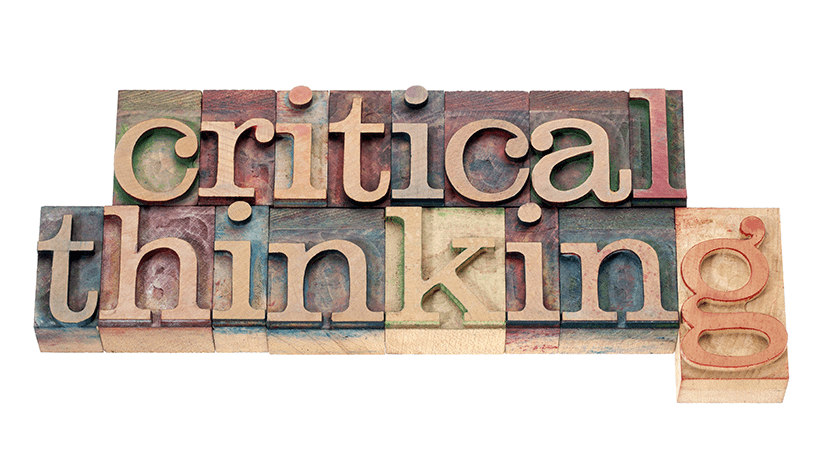 Caveat Auditor: The Role Of Critical Thinking In Modern Business Training
Critical thinking is a fundamental skill related to thinking logically. Critical thinking in modern business is even more important: When employees practice effective critical thinking they are better problem solvers, innovators, decision makers, and they are more likely to think creatively. They are also more organized and use their time more strategically.
Integrating LMS And CRM Systems For Optimal ROI
As we recently discussed, siloed enterprise management systems seem to be in their dying days. It's no longer sufficient for standalone systems to function individually, separate from other systems that keep an operation up and running and up to speed.
How To Use Photoshop For eLearning – Part 2: Cropping & Resizing
In the first post in this series, I explained the essentials you need to know before getting started with Photoshop. Today, we'll take a tour of the Photoshop CC interface. I'll also show you how to navigate through the main document settings and to become comfortable with performing important tasks like cropping and resizing images.
ID Essentials: Four Simple Steps To Unpack Objectives
Congratulations on starting your career with World of Wings, Inc.! Your onboarding begins now. As an airline pilot in training, you need to know and do a lot of things to achieve our goal of flight safety! We don't have any time to waste, so let's get started.
Top Ten Timeless Trends In eLearning
With a track record of almost a decade and a half in eLearning, we are now able to draw patterns. How do our avid learners prefer to learn? What mode and medium do they use? Let's explore and demonstrate the learner preference for eLearning.
How To Develop Mobile-Friendly eLearning Courses
Learning has come a long way in recent decades. There's no need to rush to the library when a question pops up. You don't even need to wait for your PC to power on. Today, online learners get all the information they require at a moment's notice… courtesy of their mobile gadgets.
Ingredients Of Great Training Content
Take your favorite training example, toss it in a simmering stock pot and let the flavors reduce. Watch as the well-designed visuals and engaging interactions evaporate away. What's left as you peer into the pot? I'm willing to bet it's really great content.
Compilation Of 45 Game-Based Learning Journals: Part 1
My quest for high quality research associated with Game-Based Learning, Simulations, Serious Games, Gamification, Virtual Reality, Immersive Learning, etc. has been quite a challenge. In attempting to scour the Inet looking for useful material, I have complied a definitive list of journal sources, current to December 31, 2016. I am sharing this with my readers in the hope that:
Must-Have Skills For User Experience (UX) Design In eLearning
The hype about User Experience (UX) design skills is not at all exaggerated. The good news is that anyone with eLearning development skills can train to improve their UX strategies. UX designers have a deeper understanding of user – technology interaction preferences.
Adobe And eLearning: Why It's Your Best Bet!
Batman and Robin may be known as the "dynamic duo", but they don't come close to the super-power team of Adobe and eLearning. In this article, I'll explore the Adobe software products that eLearning professionals can use to design amazing eLearning courses that entertain, enlighten, and engage every member of your audience.
The Microlearning Solution: Is Microlearning Right For You?
In this article, I will outline why the microlearning solution is gaining momentum and how exactly you can use it. I will also share a checklist that you can use to evaluate if a given training would be the right fit for microlearning.
What eLearning Content Are You Creating: Performance Support, Learning Or Information?
When it comes to eLearning, there's certainly no need to feel shackled to a course. In fact, there's no need to limit your digital content to learning in a traditional sense. After all, we're in the business of improving peoples' performance, and we know modern learners also want content that can help them at their point of need.
Video-Based Learning: Create Effective Learning Videos By Avoiding Five Common Mistakes
Technology-aided learning provides learning as per the needs and requirements of learners by presenting learning content in accordance to their preferences. This provides developers space to explore newer ways of training and learning to make sure that the content is as effective as it is interesting for learners.
Customer Service Management Initiatives That Boost Your Business
Taking the right customer service management measures is imperative for any service oriented business hoping to generate happy, returning clients. Most enterprises today understand that offering excellent customer service is crucial and can make or break a brand. But how does one become customer centric and ensure quality service while staying efficient?
The Top 5 Reasons To Use A Learning Management System (Small Business Edition)
Feroze Mistry started The Misty Tree Café a decade ago. With each passing year, his business expanded and today he is the proud owner of 20 cafes employing over 200 employees. Understandably, Mr Mistry's training across his 20 cafes leaves room for improvement.
Training Millennials: Engaging Gen Y In Training
Generation Y is defined as people (AKA millennials) born in the 80s and 90s who are now inheriting the Earth. In fact, it's thought that by 2020, millennials will represent at least 40% of the total working population.
Designing Learning In 2017 – Part Three
If I had to narrow down 2016 to one lesson learned, I think it would have to be the importance of failure in learning. In a couple of courses that I had a hand in designing this past year, we integrated several pieces of discovery learning.
Sales Training Through Sales Simulations: eBook On Branching Scenarios In eLearning
Sales training is important for successful product launches, consistent sales performance and meeting corporate targets. There are many different methods to train the workforce, but the most important method for your business is the one that gives the best results.
Three Solutions For Custom eLearning Challenges
"All eLearning must be engaging." "All eLearning must be interactive." Of course I agree with these industry mantras. But interactivity for its own sake does not make a successful custom eLearning. Each project comes with its own set of challenges—the trick to creating truly successful custom eLearning is finding a way to address these unique challenges in creative ways in your solution.
9 Key Players You Need On Your eLearning Dream Team
Behind every successful eLearning project is a winning eLearning team. In this article, I'll highlight the 9 key players that you need to have in your eLearning dream team, so that you can produce extraordinary eLearning experiences.
5 Multimedia Principles For Your Online Course
Using text and images in your online course will definitely aid your students' learning, however research says wrong combination of text and images in learning materials can cause cognitive load. In this article, I will explain the scientific reason behind it and offer some multimedia principles and useful tips for creating effective multimedia content for your online course.
Financial Training Associate
Financial Training Associate Job at NRUCFC. Apply now with your resume at elearningindustry.com/jobs. Completely free.
Instructional Design Specialist, Part Time
Instructional Design Specialist, Part Time Job at Miami University Regionals. Apply now with your resume at elearningindustry.com/jobs. Completely free.
eLearning Associate
eLearning Associate Job at The American Institute of Chemical Engineers. Apply now with your resume at elearningindustry.com/jobs. Completely free.
eLearning Instructional Design Evaluation
eLearning Instructional Design Evaluation Consultants Needed Job at National Association of State Boating Law Administrators. Apply now with your resume at elearningindustry.com/jobs. Completely free.
Solution Architect
Solution Architect Job at SweetRush Inc.. Apply now with your resume at elearningindustry.com/jobs. Completely free.
Mobile Learning Myth Busters: Agylia At Learning Technologies 2017
Mobile Learning Myth Busters: Agylia to uncover the true reality of mobile learning at Learning Technologies 2017.
NEO LMS Was Selected As A Finalist For The GESS Education Awards
NEO, the LMS for schools and universities from CYPHER LEARNING, was selected as a finalist for the GESS Education Awards in the category 'Best Paid for ICT/App Product'.
The Secret Sauce To PwC And BranchTrack Success At Brandon Hall Awards
PricewaterhouseCoopers together with BranchTrack, an innovative authoring tool for scenario-based learning, won a coveted Brandon Hall Group silver award for excellence in the Best Advance in Gaming or Simulation Technology.
Agylia Launches International Reseller Programme
Agylia launches international Reseller Programme: helping partners grow their business.
EI Design Reveals eLearning Trends And Predictions For 2017
EI Design rolls out its list of eLearning trends and predictions for 2017, a must-read for organizations looking for insights on what's in store for them in the days to come and what strategies they can use to increase their ROI on training.
The LMS Meets 2017: What Learning Tech Buyers Need To Know
In recent years, the learning solutions landscape has changed dramatically. What does that mean for buyers and sellers? Join independent learning tech analyst, John Leh, for his annual LMS trends snapshot. RSVP now for this live online event, scheduled for the 27th of January, 2017!
Training 2017 Conference & Expo
For 40 years, Training magazine's annual Training Conference & Expo has given attendees the very best in skill-building content, covering all aspects of online and instructor-led training. Attend January 30 – February 1, 2017 in San Diego!
The Secret Sauce To PwC And BranchTrack Success
In this webinar, scheduled for the 7th of February, we will share some tips, that brought us to win together with PricewaterhouseCoopers a coveted Brandon Hall Group silver award for excellence in the Best Advance in Gaming or Simulation Technology.
INTED2017-11th International Technology, Education And Development Conference
The 11th annual International Technology, Education and Development Conference, INTED2017, will be held in Valencia (Spain) on the 6th, 7th and 8th of March, 2017.
Articulate Storyline Fundamentals Certificate
Attend Training magazine's most popular Certificate Programs without leaving your office! In this live, online workshop, starting March 7, 2017, learn how to deliver more effective and appealing eLearning that saves you time/money using Storyline!
Synchronous And Asynchronous eLearning Infographic
eLearning has been through a long period of technology advanced transformation with two characteristically different forms: Synchronous and asynchronous.
Learning Battle Cards Infographic
The Learning Battle Cards Infographic shows how LBC frames design thinking process and defines the value of every single tools in this process.
Internet Of Things In The Classroom Infographic
The Internet of Things in the Classroom Infographic provides a broad snapshot of how IoT can be leveraged in the average classroom.
The Global Learner Infographic
Use the The Global Learner Infographic to discover the challenges and solutions of deploying a global eLearning programme.
Raising A Genius In The Mobile Era Infographic
Check the Raising a Genius in the Mobile Era Infographic to find out 10 ways to use smartphones and tablets for educational purposes in schools and at home.
Introducing JoomlaLMS Mobile App
Introducing JoomlaLMS Mobile App, intended for keeping track of the announcements, checking the grades and course information while students are on the go.
How To Use Microlearning Based Training Effectively – Check Out 5 Killer Examples
Microlearning uses rich media formats that ensure better retention of the learning. Organizations are embracing microlearning as it is cheaper to build, quicker to deploy, and can be updated fairly easily. Check out EI Design's Microlearning solutions.