This Week's Best eLearning News and Articles (Issue 183)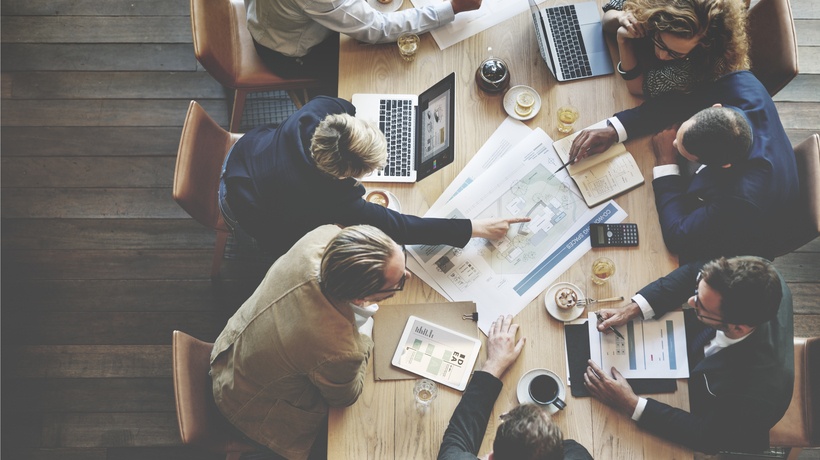 Free eBook: Training Companies At Work – An Exclusive Insight – 2017
Does your eLearning content need to be modernized to better engage your learners? This eBook from Infopro Learning explains the 5-step process they recommend for modernizing content for engagement.
3 Ways To Eliminate eLearning Friction With Mobile Learning And Microlearning
In a world that grows increasingly more mobile, it's important to embrace mobile technology and microlearning to eliminate eLearning friction caused by distracted learners and a poor learning experience.
4 Effective Ways To Incorporate Video Into Your Onboarding Program
Video has become ubiquitous in our daily lives – whether that is through sites like YouTube, Instagram, or Snapchat. As the video capabilities of smartphones have increased, people have the ability to watch and digest video anywhere they go.
Measuring The Impact Of Training By Aligning And Understanding Business Objectives
Sometimes an internal sense of satisfaction is enough. When I'm on an easy, midweek jog, I leave my watch at home and am content with enjoying the run, knowing I pushed myself a little.
6 Things To Consider Before You Jump On The eLearning Bandwagon
We keep hearing about shiny new tools every day… Tools that promise quick fixes and cure-all solutions. In such a scenario, how do we decide on whether to jump on the eLearning bandwagon or not? In other words, how do we decide which tools to follow, and which ones to avoid? Read on to find out.
Make The Most Of Your Content With Linked Units In TalentLMS
We could write a cute intro linking this to the 3Rs (reduce, reuse, recycle), but here's the lowdown: There's a new feature that embodies all three values, Linked Units in TalentLMS. It makes your content work for you in the long run and you really want this. So, learn all about this!
5 eLearning Gamification Strategies You Can Try In 2017
Gamification strategies can help you keep learners engaged and motivated, as seen in Elucidat's pudding challenge (pictured). This example-featured eLearning gamification strategies, such as content personalized for the user, peer-to-peer comparisons, social learning, and rules and branching.
Free eBook: eLearning Trends And Predictions For 2017
Earlier in the year, I had published an article on eLearning Trends And Predictions For 2017. This free eBook on eLearning Trends And Predictions For 2017 is a ready reckoner and an expanded version of the article with additional insights in the form of quotes and compelling stats on each aspect.
3 Reasons Why You Need An eLearning Modernization Strategy
Let us see why your organization needs an eLearning modernization strategy to keep content relevant and effective.
4 Tips To Improve Knowledge Management With Your Learning Management System
They say knowledge is power, but how effectively does your organization manage intellectual capital? In this article, discover how your learning platform can do more than just deliver eLearning – it can help you improve knowledge management!
8 Tips To Choose The Best Animated Video Maker For eLearning
You've already determined your eLearning budget and narrowed down your learning objectives. Now it's time to find an animated video creator that is up to the task. In this article, I'll share 8 tips to choose the best animated video maker for your next eLearning project.
3 Modern Instructional Designer Skills For Creating A Cohesive Learning Experience
Expert Instructional Designers know how to focus first on their learner and design with them in mind. Here are the 3 modern Instructional Designer skills you need to focus on the needs of your learners.
3 Modern Instructional Designer Skills For Creating A Cohesive Learning Experience
Expert Instructional Designers know how to focus first on their learner and design with them in mind. Here are the 3 modern Instructional Designer skills you need to focus on the needs of your learners.
4 Key Factors For The Selection Of An HTML5 eLearning Authoring Tool
The best eLearning authoring tools are built with HTML5 in mind. But what is HTML5 and why does it make eLearning content design easier and quicker? To make sure you're getting the most out of your eLearning design, ask yourself these 4 key questions.
6 Ways Mobile Learning Impacts Corporate Training
With the world's information at the disposal of a mobile phone or tablet, eLearning and on-the-job learning materials often need to be accessible in a matter of seconds. In this article, PulseLearning outlines 6 advantages of mobile learning for learners and your business.
The Role Of IT Department In eLearning Implementation: Friend Or Foe?
What is the role of IT department in eLearning implementation? What type of support you need from them? How to partner with them to successfully implement eLearning in your organization? Let us see!
5 Tips To Measure Employee Engagement With A Training Management Platform
If your training company has made the move to using a training management platform, it's important to make sure your staff are using it effectively in their day-to-day work. Read our 5 tips to measuring whether that is happening below.
6 Ways To Facilitate Lateral Thinking In Online Training
Edward de Bono, the psychologist and author who introduced the term "lateral thinking" back in 1973, said that "Rightness is what matters in vertical thinking. Richness is what matters in lateral thinking". Being able to approach a problem from a new angle and think outside the box is an invaluable skill.
9 Tips To Find The Right Extended Enterprise LMS For Your Organization
You're on the lookout for a modern LMS to deliver top-notch training to your external partners, customers and distributed audiences. But how do you choose the best learning platform for the job without wasting valuable resources?
LinkedIn's Top 11 Challenges For Learning And Development In 2017: The LMS Game Plan To Succeed
An answer to LinkedIn's findings on the top challenges for Learning and Development, as mentioned in its '2017 Workplace Learning Report', this article reveals 11 key Learning Management System strategies that can help an organization overcome the challenges and boost the success of its learning/ training initiative in 2017 and beyond.
4 Tips For Improving Online Course Design With Learning Analytics
Discover how learning analytics can help you improve your online course design. And get some practical tips to get started.
Director Of Instructional Design And Distance Learning
Director of Instructional Design and Distance Learning Job at Geisinger Commonwealth School of Medicine. Apply now with your resume at elearningindustry.com/jobs. Completely free.
Director Of Career Engagement
Director of Career Engagement Job at Geisinger Commonwealth School of Medicine. Apply now with your resume at elearningindustry.com/jobs. Completely free.
Product and Project Guru for Online Learning
Product and Project Guru for Online Learning Job at Decker Communications, Inc.. Apply now with your resume at elearningindustry.com/jobs. Completely free.
eLearning Multimedia Designer
eLearning Multimedia Designer Job at Facing History and Ourselves. Apply now with your resume at elearningindustry.com/jobs. Completely free.
Senior Training Specialist
Senior Training Specialist Job at The Mosaic Company. Apply now with your resume at elearningindustry.com/jobs. Completely free.
Trading College Picks Thought Industries, Expands Financial Market Training
Leading provider of financial market training and education to transition onto Thought Industries' Learning Business Platform to improve the online learning experience for learners.
EI Design Gets CMMI Level 3 Accreditation
EI Design has secured the L3 corporate quality certification from Capability Maturity Model Integration (CMMI) Institute, a testimony to its impeccable process conformance and insatiable innovation drive.
Save the Cat!® Uses Thought Industries To Deliver Screenwriting Courses
Save the Cat!®, a Blake Snyder Enterprises entity, plans to use the Thought Industries platform to expand the delivery of their written and in-person screenwriting training to an online format.
Agylia Opens New Video Production Studio
Agylia extends video production capabilities with opening of UK video studio.
Advantexe Launches New Digital Board Game Business Simulation
Advantexe's new online business simulation takes the complexity and mystery out of business by helping learners to better understand the drivers of how a business operates and makes money.
FocusOn Learning 2017 Conference & Expo
FocusOn Learning Conference & Expo is North America's only conference and expo dedicated to trending hot topics that are changing the future of learning and targets the technologies that are transforming our approaches to training.
Free Webinar – How To Extend Your Learning Reach Beyond Employees
How can you leverage learning technology to move beyond an "employees only" mentality? What's the best way to engage and educate diverse audiences, simultaneously? Join Talented Learning and Expertus when they take an in-depth look at this topic, on the 29th of June, 2017.
EDULEARN17 – International Conference On Education & Learning Technologies
You are invited to participate at EDULEARN17 (9th International Conference on Education and New Learning Technologies) that will be held in Barcelona on the 3-5 July 2017. Every year, EDULEARN brings together over 700 delegates from 80 countries.
Developing Small Bites Learning Certificate Program
Attend a Training magazine Certificate Program! In this live, online workshop, starting on the 11th of July at 1 pm, you'll examine micro-learning content design and delivery that facilitates quick transfer of knowledge and application,
2017 Realities360 Conference
Realities360 is a hands-on conference unlike anything you've seen before. In order to understand what AR, VR, and other alternate-reality technologies can do for learning, you need to experience them for yourself.
The Crazy Way We Work Infographic
The Crazy Way We Work Infographic illustrates some interesting (and surprising) stats on our struggle with productivity in the modern workplace.
How Τo Keep Learning Infographic
At some point in our lives, we all notice that learning does not come as easily as it used to. But what if there are ways to keep learning?
Connecting Educators Globally Infographic
The Connecting Educators Globally Infographic presents the power of networks and platforms and next steps for anyone ready to become a global educator.
Is Your Workforce Fit For The Future? Infographic
Having an understanding of your organisation's current talent situation is the starting point and a high priority for boards and senior management.
6 Benefits Of Cloud Based eLearning Authoring Tools Infographic
Cloud-based eLearning authoring tools offer eLearning professionals a range of benefits.
ActivePresenter-Choosing Capture Profile For Creating Software Demonstrations
In this video, you will get to know which Capture Profile to choose when you want to create a Video Demonstration.
The Impact Of Our Learnability And Learning Analytics Framework – EI Design
Here is a video featuring "before and after" views on learning effectiveness of a course. It reflects how our learnability and analytics framework enhanced the existing learning effectiveness of the online course. Know more – on how to measure learnability of your online courses to create positive ROI.