This Week's Best eLearning News and Articles (Issue 184)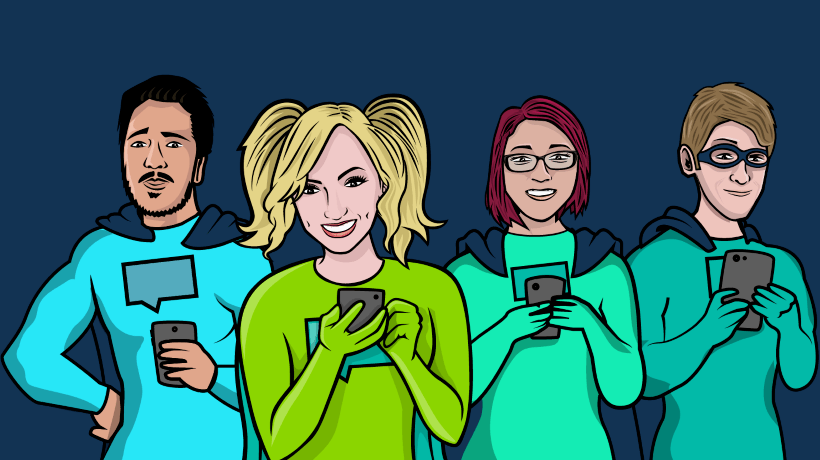 Free eBook: Mobile Learning And The Future Οf L&D
Interested in a brand new free ebook from the engagement experts? Then you should definitely check Mobile Learning And The Future Of L&D.
3 Mistakes That Are Killing The Effectiveness Of Your eLearning Programs
Are you dissatisfied with your eLearning results? It might be because you're relying too much on automation, not leveraging peer mentorship, and are giving your learners a little too much freedom.
Onboarding: Getting The Expert Opinion
An engaging onboarding program is key to long-term retention and employee productivity, but what is it about successful onboarding that creates these effects? Consider your first day at a new job.
Make The Most Of Your Training Budget
There are two demographic groups that your company needs to educate: The employees and the customer. If your employees don't fully understand what they're doing and why they're doing it, they might not do their jobs or represent the company as well as they could.
9 Steps To Defining A Workplace eLearning Strategy That Works
What does it take to implement eLearning successfully in a workplace? While there are many elements that go into this, I would point to the one most important element – the eLearning strategy. Here is how to define an effective workplace eLearning strategy.
Make It Your Own: TalentLMS Customization Options
TalentLMS enjoys empowering users and customization is just one more place where this is possible: It's your portal, make it look any way you please. You have all the tools to make it your own, what are you waiting for? Here they are, TalentLMS' Customization Options!
3 Social eLearning Strategies To Try In 2017
Social learning isn't anything new, but it's certainly more relevant now than ever before. Let's look at 3 social eLearning strategies you can use in your content this year.
Go Beyond Badges And Leaderboards: 5 Examples Of Gamification In Corporate Training
With the usage of gamification in corporate training maturing, the focus is shifting on adopting strategies that can further leverage on it. In this article, I share 5 gamification examples that go beyond just badges and leaderboards.
"Do I Need eLearning Modernization?" 5 Questions To Ask
Do you need eLearning Modernization? Here are 5 questions to ask to help determine if you should undertake an eLearning modernization project.
The Path Of Learner Engagement
Let us talk about learner engagement: If your learners aren't engaged, the training simply won't work! Find out how to take disinterested zombie learners and turn them into learning superheroes!
The 5 Most Important Features In An eLearning Authoring Tool
How do you separate the good eLearning authoring tools from the truly great ones? Easy! Start by looking for these 5 essential features all good authoring tools should have.
6 Questions To Decide If Mobile Learning Is Right For Your Organization
Mobile learning remains one of the fastest moving eLearning trends today. Embracing mobile learning can significantly extend the longevity of your corporate training. In this article, PulseLearning outline questions to help you decide if mobile learning is right for your organization.
3 Common Microlearning Myths Debunked 
There are several myths revolving around microlearning and I would like to clear the air about 3 such myths in this article.
The ROI Of A Training Management Platform For Training Companies
Looking to make the move to a training management platform, but not sure if it's worth the expenditure? Check out what your Return on Investment (ROI) could be if you do decide to buy!
Top 5 L&D Priorities In FY17 For Chief Learning Officers
Are your corporate eLearning initiatives helping your bottom line? Or are they putting a strain on your company's resources? In this article, I'll highlight the top 5 L&D priorities that Chief Learning Officers should have on their radar for 2017.
How To Build A Business Case For A Modern Learning Management System
Learn how to build a nuanced, well executed business case for a modern Learning Management System (LMS) with the measurable ROI that positions learning as a driver of your organization's strategic goals.
Learning Metrics That Matter: Data Points You Should Be Measuring
Your CEO needs to know the investment into your LMS is helping the bottom line. Use these metrics to confidently prove ROI.
Free eBook – Mobile Learning: Let's Not Phone It In!
Almost everyone's considered mobility by now, to the extent that it's no longer 'new technology'. But what is the verdict on it? Is it actually useful? Is there a particular approach to using mobility that will help make mobile learning more robust? We discuss these and similar questions.
Employee Vs. Extended Enterprise Learning: 8 Differences That Make A Big Impact
Here's my "quick start" advice as a Learning Management System consultant who has focused on extended enterprise learning for over 20 years.
Smart Human Resources Will Support Disruptive Businesses And Innovation
Return on investment from blended learning is related to roll out effective learning quickly. The 4Cs of corporate education are vital to its success: Communication, Critical thinking, Collaboration, and Creativity. Yet, recently improvements in learning delivery slowed down. How can we act?
5 eLearning Industry Trends Shaping Corporate Learning Today And Tomorrow
There are many stages in the corporate world where employees need learning the most – when they want to learn for the first time or want to increase their existing knowledge by further learning opportunities. Learning support is required when they are trying to recall when they learned. Here are 5 eLearning industry trends that are shaping the world of corporate learning.
Director Of Instructional Design And Distance Learning
Director of Instructional Design and Distance Learning Job at Geisinger Commonwealth School of Medicine. Apply now with your resume at elearningindustry.com/jobs. Completely free.
Director Of Career Engagement
Director of Career Engagement Job at Geisinger Commonwealth School of Medicine. Apply now with your resume at elearningindustry.com/jobs. Completely free.
Product and Project Guru for Online Learning
Product and Project Guru for Online Learning Job at Decker Communications, Inc.. Apply now with your resume at elearningindustry.com/jobs. Completely free.
eLearning Multimedia Designer
eLearning Multimedia Designer Job at Facing History and Ourselves. Apply now with your resume at elearningindustry.com/jobs. Completely free.
Senior Training Specialist
Senior Training Specialist Job at The Mosaic Company. Apply now with your resume at elearningindustry.com/jobs. Completely free.
Get Your Staff Engaged In Sustainability!
"Sustainable Practices in the Tourism and Hospitality Industry", our innovative gamification course a finalist at the Start-Up Innovation Camp, at WTFL 2017, selected from 170 entries world-wide.
Advantexe Launches New Digital Board Game Business Simulation
Advantexe's new online business simulation takes the complexity and mystery out of business by helping learners to better understand the drivers of how a business operates and makes money.
Agylia Opens New Video Production Studio
Agylia extends video production capabilities with opening of UK video studio.
Save the Cat!® Uses Thought Industries To Deliver Screenwriting Courses
Save the Cat!®, a Blake Snyder Enterprises entity, plans to use the Thought Industries platform to expand the delivery of their written and in-person screenwriting training to an online format.
EI Design Gets CMMI Level 3 Accreditation
EI Design has secured the L3 corporate quality certification from Capability Maturity Model Integration (CMMI) Institute, a testimony to its impeccable process conformance and insatiable innovation drive.
Free Webinar – How To Extend Your Learning Reach Beyond Employees
How can you leverage learning technology to move beyond an "employees only" mentality? What's the best way to engage and educate diverse audiences, simultaneously? Join Talented Learning and Expertus when they take an in-depth look at this topic, on the 29th of June, 2017.
EDULEARN17 – International Conference On Education & Learning Technologies
You are invited to participate at EDULEARN17 (9th International Conference on Education and New Learning Technologies) that will be held in Barcelona on the 3-5 July 2017. Every year, EDULEARN brings together over 700 delegates from 80 countries.
Use Learning To Make Friends And Influence People
Explore the universe of extended enterprise learning in the free webinar Use Learning to Make Friends & Influence People held on July 6th, 2017, presented by Docebo and Brandon Hall Group. Sign up today!
Developing Small Bites Learning Certificate Program 
Attend a Training magazine Certificate Program! In this live, online workshop, starting on the 11th of July at 1 pm, you'll examine micro-learning content design and delivery that facilitates quick transfer of knowledge and application.
Training Multiple Audiences In One LMS
Enable your partners, customers, association members, and more with the Docebo LMS. Join us for a free demonar on July 19 @ 1PM EST to learn how to facilitate learning for multiple audiences in one learning management system.
How to Buy Learning and Development in 6 Steps Infographic
The How to Buy Learning and Development presents a six-step strategy for how to maximize your corporate learning and development outsourcing.
How Can Games Help in Education Infographic
The How Can Games Help in Education Infographic explains why games are very important for the educational system.
Benefits of Mobile Learning to Companies Infographic
In today's fast-paced business environment, you really need to offer ultimate flexibility. Making learning available on mobile devices is a great selling point and your Learning Marketing Strategy should include a plan for moving toward Mobile Learning.
Presenting Content to Different Types of Learners Infographic
If you were like most students, you and your friends probably developed all kinds of tactics to make the grade. You may have argued with your classmates about which method was best—but the truth is that, when it comes to learning, one size does not fit all.
The Top Features Around for the Best eLearning Results Infographic
In The Top Features Around for the Best eLearning Results Infographic, you will find the few facts and figures to map the current training market and help you choose the 'best in breed' eLearning platform for your needs
ActivePresenter-Choosing Capture Profile For Creating Software Demonstrations
In this video, you will get to know which Capture Profile to choose when you want to create a Video Demonstration.
The Impact Of Our Learnability And Learning Analytics Framework – EI Design
Here is a video featuring "before and after" views on learning effectiveness of a course. It reflects how our learnability and analytics framework enhanced the existing learning effectiveness of the online course. Know more – on how to measure learnability of your online courses to create positive ROI.