This Week's Best eLearning News and Articles (Issue 190)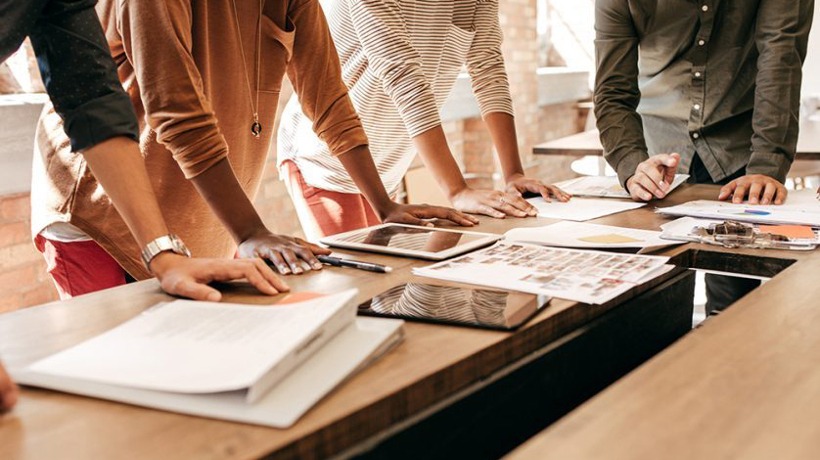 Free LMS Project Toolkit: The Ultimate Guide To Learning Platforms
The free LMS Project Toolkit by Docebo is the ultimate guide to learning platforms, more commonly known as Learning Management Systems. Whether you don't have any previous experience with a learning platform or you are looking to transition from your current one and need to convince your executives, we are here to help. In this article, I'll share some important information regarding the free LMS Project Toolkit.
4 Methods The Elucidat Design Team Uses For Design Concepts
Great digital learning is derived from solid ideas that target real project needs and the project's audience(s). That's why you should consider getting started on paper to explore ideas and edit concepts.
How To Position Learning Technology With Different Executives In Your Firm
Learning technology is expensive and often times you need to be extra-persuasive with the people in charge to get them to espouse your plan to invest in learning software. In this article, I'll demonstrate how you can convince different executives in your firm about the importance of learning technology.
Usability In Online Learning Platforms: Best Practices To Help You Get It Right
Usability is central to the success of an e-learning experience. As an author of online learning courses, the old design adage "Form follows function" has always served as a helpful tool—and a source of contemplation. Here are a few usability best practices to keep in mind as you create your course.
How To Develop Empathy For Your Audience—And Why You Should
You've started with the end in mind and now have a set of clearly defined metrics that link with your company's business objectives. You know if the project succeeds, it will make a measurable impact on the company's bottom line. But how do you connect those high-level objectives with your learning design? The missing link is your learners.
Free eBook: The Ultimate Guide To Successful eLearning Implementation At The Workplace
In this free eBook, we give you a complete rundown of what it takes to make a success of eLearning implementation at the workplace, right from defining the strategy to evaluating the program.
10 Ways To Use Microlearning To Make Your Corporate Training More Effective
The L&D focus today is on engaging learning strategies that facilitate application of learning and can create a positive ROI. This article showcases 10 Microlearning formats that you can use (for both formal and informal training) to meet this mandate.
10 Ways To Find Out Who Your Learners Really Are
Last time, we found out why it's so important to learn about the real people at the other end of the training content. Now, let's look at a few tips to help you do just that!
The Importance Of Product Knowledge Training In Sales
Product knowledge training is one of the most important aspects of sales training, and for on-the-go sales staff, eLearning they can consume on mobile devices is crucial. This is how we developed eLearning for sales reps to prepare them to talk with neurosurgeons.
The Key Of Microlearning In The Learning Lifecycle: 3 Stages
We are in the midst of a technological revolution – a revolution that has impacted every aspect of our lives – an impact that has been felt and noted in the training industry as well. Concurrently, there has been a shift in the way people prefer to learn – one of the reasons again being the influence of technology on our learners.
3 Obstacles To Avoid When Implementing Your New Training Management Platform
Thinking about investing in some new training management software? We've got some tips to make sure you don't hit any obstacles during your implementation period!
The Top 3 LMS Admin Headaches, And How To Avoid Them
Are your admins frustrated with Learning Management System complexity and complications? Read this article to learn tips and tricks for overcoming legacy LMS hurdles. It explains how to: Grow user adoption, create efficient workflows, and maintain quality governance. Learn how to avoid the top 3 LMS admin headaches here.
10 Reasons Why Stories And Online Learning Make An Awesome Pair
eLearning developers need to consider that most learners approach online learning with a different attitude. In a self-paced learning environment, they are in control of their learning.
7 Steps To Successfully Implement Learning Analytics In Your Company
Organizations resist change, but if you follow these 7 steps, you can increase your chances of successfully implementing learning analytics.
3 Ways To Stop Gender Inequality In The Workplace
Gender disparity can be harder to spot than you'd think, and it's incredibly pervasive. Are your managers unintentionally putting your female employees at a disadvantage? Are you creating sufficient, open opportunities for both male and female colleagues to aim for a promotion?
Why You Need To Leverage Mobile For Performance Support
Performance support is actually not meant to be lifelong learning; it is simply just-in-time information accessed at a point of time, situation, and location.
Train Your Team Online: Boost Workplace Productivity With Group Learning Strategies
In this post, we'll examine what collaborative learning is, and how you can best approach and implement it for improving workplace productivity.
Mapping Out A Training Roadmap To Keep Employees On Course
When it comes to employee training, know your destination, plot the route, and know what milestones you are looking for. Guide your employees with a training roadmap, and watch your course pave the way to success.
Play To Learn Book Review: The Ultimate Guide To Learning Game Design
Designing effective learning games is not for the timid. Karl Kapp and Sharon Boller know that well. It's because of this that they have authored the ultimate guide to learning game design that's called Play to Learn. In this article, I'll provide you with an in-depth review of what this great piece of writing has to offer.
8 Questions To Evaluate Your eLearning Recruitment Strategy
Diversity in eLearning recruitment is the secret to success in any organization. But how can recruiters ensure they are eliminating bias in the process?
Learner Engagement: Probably Not What You Think
An insight into engagement, as it applies to organizational learning.
The 70:20:10 Methodology – Part 2: Working Methodically With 70:20:10
Many occupations use methodologies specifying how they work, their resources they use, the expertise they need, and so on. Examples include doctors, lawyers, engineers, nurses, ICT specialists, and organizational development professionals. The Learning and Development profession can also benefit from such methodologies.
Senior Trainer
This position will assist in all training aspects of the Nationwide Multi-State Licensing System & Registry (NMLS), delivering quality training to a variety of audiences, to include state regulatory agencies, industry firms and individuals, internal staff, and support users.
Senior Instructional and Graphic Designer
The Senior Instructional and Graphic Designer will work with business partners in Corporate Services to improve business performance through learning and performance improvement solutions.
Senior Software Engineer
Learning is a critical, life-long endeavor for medical students and doctors. Our customers must learn a massive amount of information in a few short years, and how well they demonstrate what they have learned has a major impact on their career options and choice of specialty.
Instructional Designer
Our Boston based client is looking for an Instructional Designer that has systems, technical, or software simulation design/development experience.
Senior Instructional Designer
The Senior Instructional Designer will create an Advanced Director ILT program for 12 necessary competencies the client looks for the Directors to master before moving into VP roles.
Executive Learning And Development Issues Revealed In Latest Survey
Four key views have emerged from this year's Corporate Pulse Survey from Financial Times |IE Business School Corporate Learning Alliance.
Kate Lander Joins Eukleia Training As Chief Strategy Officer
Eukleia Training's new Chief Strategy Officer Kate Lander has a strong background in finance and training.
Mobile learning: Let's Not Phone It In – Upside Learning Launches Its eBook
With its just-in-time learning approach, mobile learning caters to the training needs of an industry that needs to be "mobile" too. This eBook addresses the concerns of organizations at different levels of "mobile maturity" for training programs.
Hilti Choose Next-Generation Learning System Fuse Universal
Fuse Universal Ltd, a market leader in next-generation learning, today announces that Hilti has selected Fuse as their new learning system.
Cyber-Security Learning Game Zero Threat Wins International Award
Cyber-security learning game Zero Threat has won Silver in the 2017 International Serious Play Awards.
Best Of DevLearn Webinar : Harness Emerging Technologies For Training
Join the eLearning Guild for the Best of DevLearn webinar: How Today's Emerging Technologies Can Redefine Your Training, on the 16th of August, 2017.
Essentials Οf Writing eLearning Quizzes And Polls
Enrich interactivity and learning with effective quizzes and polls. Join this ATD Online Workshop – Essentials Οf Writing eLearning Quizzes And Polls, scheduled for the 17th of August, 2017.
Learning From Marketing Summit – Live Online Event
Join us on August 23 and 24 for the Learning from Marketing Summit, where experts from the L&D and marketing fields will show you how to enhance your training and development solutions with knowledge and research from the marketing industry.
DoceboInspire
DoceboInspire, presented by Docebo, is a Learning and Development conference taking place in Boston, MA on September 18-19, 2017. Register to learn from the best in the eLearning industry.
ATD LearnNow – Game Design Workshop
At the ATD LearnNow: Game Design two-day workshop you'll learn how to create a learning game prototype that can make any learning program more fun and effective. The event is scheduled for 20-21 September 2017. Join now!
What You Need To Know about Corporate Learning Infographic
Unlike long meetings (which everybody hates) and free office snacks (which everybody loves), corporate culture is one of those things that every generation of workers gets to re-evaluate and redefine. Modern employee expectations of their companies are drastically different than what was the norm in the past ― even when we are talking about "just" a decade or two ago
Valuable Digital Marketing Skills for Your CV Infographic
Digital marketing covers a huge spectrum of activities that aim to attract customers and generate sales online. Whether you are an email marketing specialist or a digital marketing generalist, many of the skills below should feature in your CV.
Gamification Design Tips Infographic
Everyone loves a game, and for good reason too. The addictive nature of gaming is one that we'd all like to harness in our learning. But the science behind also means that you increase learners' knowledge retention and makes your learners more engaged with learning.
10 Ways Technology Can Raise Your Creative Game Infographic
What most people fail to realize at first glance is the role of technology in the exponential growth of creative ideas. Technology has made it a lot easier to bring creative minds and ideas closer and take those ideas further at the same time. This mixing of technology and creativity has brought innovative new ideas and avenues through which people can express themselves.
Top 5 Challenges Learners Face Today Infographic
Learners today face more challenges than ever before. With companies failing to provide a cutting-edge learning experience, it's clear that a major shift needs to take place for learning to be effective at an individual level. And with the rapid pace of change in the market, sales organizations need a learning approach that is agile enough to accommodate generational learning differences and individual styles.
Learning Transformation – EI Design
With the dynamics changing in the learning industry, it's about time the status quo is challenged. To fulfil the learner expectations today, you've got to transform your learning and keep it alive, relevant and impactful. This video showcases how we can help you with that and more!
Setting The Passing Grade For Your Adobe eLearning Project
In this video, I'll show you how you can set the pass / fail value for your Adobe Captivate eLearning project.