This Week's Best eLearning News and Articles (Issue 203)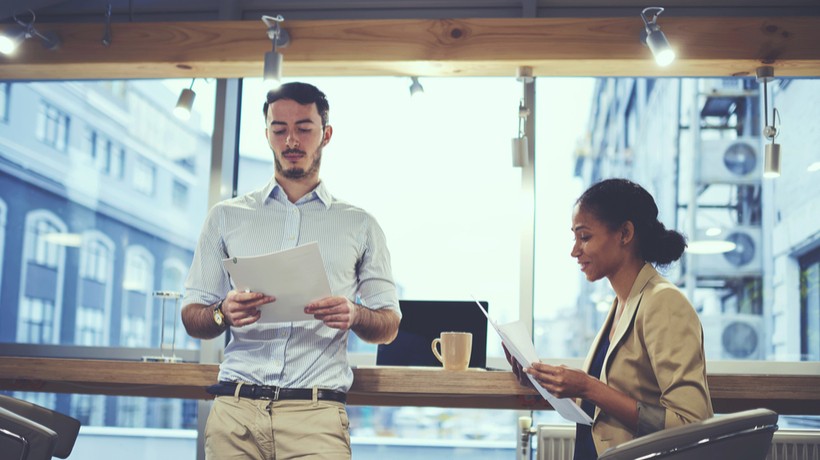 Free eBook: How To Measure The Impact Of Employee Soft Skills Training
Deep knowledge of the subject matter is definitely a must-have in every industry. However, soft skills are an indispensable part in any position. Although having soft skills is taken for granted nowadays, reality has proved quite the opposite. The free eBook How To Measure The Impact Of Employee Soft Skills Training showcases what to focus on in an employee soft skills training program as well as how to measure its success. In this article, I'll highlight what BizLibrary's free eBook is all about.
Why Interpreting Learning Analytics To Design And Refine eLearning Is Key
Data that you don't understand is just more information. On the other hand, data that you know how to interpret is insight, and it's insight that can help improve your eLearning. A new downloadable article explains how to use data effectively to measure the performance of your digital learning.
Why You Should Embrace Enterprise Mobility In Corporate eLearning
Mobile devices are always on our sides, and smart Learning and Development leaders are using them to encourage self-paced, ongoing learning.
5 Steps To Implement The Social Learning Strategy In Your Corporate Training
Organizations the world over acknowledge the importance of fostering collaboration among employees. This article outlines how can you integrate the social learning strategy to maximize the impact of your corporate training.
Why Invest In A Mentorship Program?
Mentorship programs: they're great, right? Or so people say. Wait, are they as great as people say? To find out, let's look at some cold, hard facts.
How Augmented Reality Can Revolutionize Employee Onboarding And Retention
Employee retention, and finding new ways to upgrade the onboarding process is a serious concern for employers–and Augmented Reality (AR) may be the solution.
Contractor Training In The On-Demand Economy
Here is why contractor training is critical to any modern-day company that employs independent contractors.
Customizing Your LMS: 10 Ways To Make Your LMS Feel More Like Home
If you have an inflexible infrastructure, you can only produce rigid training initiatives. Find out about some of the customization options that can really bring your LMS to life!
4 Advantages Of Training Management Software For Small And Mid-Sized Businesses
Training management software is great for any type of training business, but let's look at how it can specifically help small and mid-sized training businesses.
Easy Maintenance: Working With eFrontPro's System Settings – Part 1
System Settings sounds like a place you don't wanna have to go to, like the tax office or Siberia. But, unlike those hellholes of despair (okay, that's too far), eFrontPro's System Settings are more like a wilderness. Sure, they hold some danger, but with the right map, they hide wonders.
Why You Should Use SharePoint For Compliance Issues Of FDA Regulated Industries
SharePoint provides the essential tools required by CFR 21, Part 11 such as audits, system validations, audit trails, electronicsignatures and documentation. When it comes to compliance training, this is an invaluable tool that will save the stress and financial consequences of non-compliance.
5 Performance Support Tips To Enhance Sales Online Training
Does your sales team need to brush up on their skills in order to widen your profit margin? Are you looking for targeted tools that offer just-in-time performance support after sales online training? In this article, I'll share 5 performance support tips that can help you improve your sales online training.
4 Fabulous Benefits Of Developing Online Courses In HTML5
Given the surge in the use of mobile devices in our lives, corporate training is not far behind and organizations need to develop learning materials that can be accessed seamlessly on multiple devices. Read this article to know how HTML5 facilitates this and the benefits it offers.
3 Best Practices Of Bridging The Learning And Doing Gap
Executives don't have confidence in our ability to make an impact, and only 50% of learners feel training helps them improve performance. We call this the learning-doing gap. Read on for best practices to address this persistent problem.
3 Major Advantages Of Creating A Responsive eLearning Course
With responsive eLearning courses, today's busy learners are no longer tied to their desktop device at work to access the content; and this is only one of the major benefits that responsive design offers you.
Digital Badges: What Are They And How Are They Used?
If you're interested in learning about digital badges and you don't know where to start, this article is for you.
5 Reasons Using The Fibonacci Sequence Makes You Better At Agile Development
Using the Fibonacci sequence to estimate tasks in Agile Development will give you more accurate estimations and make you better at Agile Development for these 5 reasons.
5 Tips To Change Corporate Training With Gamification
Gamification deals with the concept of using game mechanics in non-gaming activities. It has become popular in corporate training and is here to stay for a long, long time. Gamified learning adds the competitive and entertaining element that keeps learners engaged.
5 Tips How To Effectively Incorporate Repetitive Skill Practice In Corporate Training
How successful is your corporate training? Are your employees remembering and applying what was learned with enhanced performance? If not, repetitive skill practice could be your missing link. This article discusses how you can incorporate repetitive skill practice in corporate training for maximum impact.
10 Must-Have Online Training Job Aids For Your Customer Service Staff
Stellar customer service leads to customer loyalty, increased profits, and a better brand image. In this article, I'll share 10 must-have online training job aids for your customer service staff.
5 Innovative Inbound Marketing Strategies Every Organization Should Employ
Inbound marketing is a broad field that is becoming increasingly popular. But is it enough to produce quality content, or are there specific methods you should use to maximize results?
Senior eLearning Developer
This position will be responsible for launching us into the world of eLearning! Our goal is to produce eLearning that's similar to Salesforce Trailhead, using the appropriate multimedia elements (text, graphics, videos) to deliver eLearning that's effective and engaging.
LMS Analyst
Reporting to the Director of Blended Learning, the Business Intelligence Analyst will be responsible for gathering large datasets related to in-person and digital professional development records, looking for trends of our adult learners to help develop a picture of the impact of our blended learning strategy, where improvements can be made to drive scholar outcomes.
System Learning Specialist
Responsible for supporting learning and development needs for the Camp Fire network through online, in-person, and virtual training.
Senior Technical Trainer
This position will support all training aspects of the Nationwide Multistate Licensing System & Registry (NMLS) by delivering quality training to a variety of audiences.
Project Manager
You will be joining an internationally recognized brand that provides award-winning, world-class products and services to global Clients.
G-Cube Wins Coveted Brandon Hall HCM Excellence Awards 2017
G-Cube announced that they won the prestigious Brandon Hall HCM Excellence Award 2017 in the category of Best Sales Training for Extended Learning.
SweetRush Wins 17 Brandon Hall Group Excellence Awards, 13 Golds
The company joins the list of top overall winners in the prestigious awards competition, receiving awards in a wide variety of categories, including sales training, new hire onboarding, mobile learning, games, accessibility, video, and innovation.
FT | IE CLA Shortlisted In Learning Technologies Awards 2017
MiFID II programme for Santander listed in Best Use of Learning Technologies to Ensure Compliance – International.
Fuse Universal To Hold Talk At World Of Learning Conference & Exhibition
Market leading learning solutions provider Fuse Universal, today announces their attendance and sponsorship plans for the World of Learning Conference (WOLCE) in Birmingham, UK, in October 2017.
BizLibrary Announces Game-changing Features During Annual Client Conference
BizLibrary has released several new features to all levels of its online learning platform.
Essentials Of Mobile Development Using Adobe Captivate
Join this online workshop and develop the skills needed to create mobile content in Adobe Captivate. The event is scheduled for the 9th of November, 2017.
The 3rd MENA Higher Education Leadership Forum
Strengthening the Dialogue between Higher Education, Government and Industry: Working Together towards a Common Vision.
ICERI2017 – International Conference Of Education, Research And Innovation
You are invited to participate at the 10th anniversary of ICERI (10th annual International Conference of Education, Research and Innovation) that will be held on the 16th, 17th and 18th of November 2017 in Seville (Spain).
How Global Organizations Create And Deliver eLearning At Scale
How do global companies create and deliver content instantly to their global user communities? Join gomo's Business Development Manager, Thom Tate, and Managing Director, Mike Alcock, on November 28, to find out.
OEB Global 2017 – Learning Uncertainty
This year's OEB, Europe's leading conference on technology supported learning and training, will look at how rising uncertainty will affect education and the demands on it. OEB 2017 will be held in Berlin from the December 6 – 8, 2017.
Game Of Productivity: Communication Overload Is Here Infographic
Defeating communication overload doesn't require forging uncertain loyalties or alliances. Enterprises can liberate their people and secure their kingdom.
6 Digital Signage Gamification Ideas For Schools Infographic
Gamification is a great way to get your audience to engage with your digital signs. Here are 6 Digital Signage Gamification Ideas for Schools.
The Journey Of Teaching Tools Infographic
The teaching tools we have been using since a long time are evolving day by day, in order to improve the traditional teaching methods.
Gen AI And The Future Of Artificial Intelligence Infographic
The Future of Artificial Intelligence Infographic shows who Gen AI is, how they'll work, and why the future of AI lies in their capable hands.
Empowering Students to Achieve Infographic
Learn about the need for early intervention, the economic impact of students who fall off track in Empowering Students to Achieve Infographic.
Smart Shape Rollovers On The Main Master Slide In Captivate 9
Learn how to use the plugin CpExtra to get back rollover effects for smart shape buttons on the main master slide in Adobe Captivate 9. This tutorial uses the CpExtra plugin from Infosemantics.
Captivate Per-Slide Progress Bar Tutorial
Learn how to setup a per-slide progress bar in Adobe Captivate.
See our full eLearning Archive