This Week's Best eLearning News and Articles (Issue 213)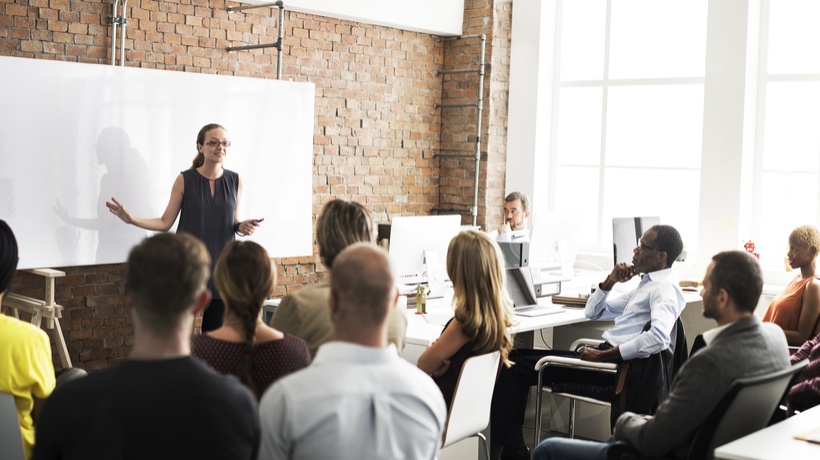 Free eBook: Your Step-Βy-Step Guide To Design High-Impact Blended Training Programs
This free eBook provides several insights on blended training, including its definition, what is driving its adoption, and what benefits it offers. It also includes tips, best practices, and examples to create high-impact blended training programs.
A 10-Point eLearning Planning Checklist Perfect For You
Learning is about helping people change their behavior. For this to happen, you need to inform your eLearning with an understanding of who your audience is, what their challenges are, and the best way to engage them. Before you even get started on designing or creating, you need to have a plan in place.
5 Killer Examples Of Interactive Videos For Corporate Training
Interactive videos can be used to create high-impact corporate training (for both formal training as well as for performance support). In this article, I showcase 5 killer examples of interactive videos for corporate training.
Great Work: Bringing A Leadership Vision To Life
Besides being more engaging than a simple presentation, in many cases gamification offers more effective learning. You may "…be more likely to remember a solution you discovered on your own rather than the one that someone with superior knowledge simply told you…" writes training expert Cathy Moore on her blog.
6 Ways To Take The Bored Out Of Onboarding
Starting a new job is a major life change. It's like the first day of school and a new relationship rolled into one. Weeks or months of applications and interviews have culminated in that exciting first day. Don't let long hours of paperwork, company jargon, and slide shows suck the spark out of your new employees.
5 Tips To Choose The LMS With The Right Reporting Features For Your Training Company
When shopping around for a new Learning Management System, you need to make sure that one of the things you consider is an awesome reporting system!
Must Have LMS Features, Part 1
Here is the first part of a 3-part article series about the most critical Learning Management System features that will help you enhance training effectiveness for your organization.
The Key To Reaching Empowered Learners
Here is why we should not think in terms of providing learning, but in terms of aiding performance.
33 eLearning Vendors Who Can Optimize Your Online Training
From voice-over artists to full-service consultancies, each of these eLearning vendors will enrich your online training initiatives.
The 4 Stages Of A Successful LMS Launch
Once you've invested in a new learning platform, you need to make sure it'll do what you want it to. A stunning first impression can give the LMS the momentum it needs to get a real return on investment. Read on to find out how to make a success of your LMS launch.
Members Only: Controlling Access To Your eFrontPro Portal – Part 2
We've been looking at how to keep people out of your eLearning portal. And that might sound wrong, but it's actually as important as getting them in! So hop on over to discover the LMS access options you have in your eFrontPro-based portal.
7 Advantages Of Integrating Serious Games In Corporate eLearning
Are you ready to turn your corporate eLearning into an immersive, interactive, and emotionally-driven gaming experience? Is your organization still having some doubts about whether serious games are really worth the investment? In this article, I'll highlight 7 of the advantages of integrating serious games into your corporate eLearning program that might convince wary stakeholders.
3 Ways Blended Learning Benefits Classroom Training
Classroom training, though impactful, is fraught with logistical and scheduling problems. To fill these gaps, it is essential that organizations include online learning technologies in their training programs. Read to find out how technology enhances the effectiveness of classroom training.
How To Ensure High Impact Employee Generated Learning Content
This article offers 3 ways Learning and Development leaders can use to change the mindset of Subject Matter Experts about content creation.
6 Questions To Ask When Developing A Curriculum For Your Certification Course
Let's get into the nitty gritty of course creation. The heart of your certification course is the curriculum. While marketing is important for spreading the word, the ultimate success or failure of your course is determined by its content.
Next Generation Learning Infrastructure: 3 Key Roles On Your Learning Team
If you think about expanding your technology infrastructure to support a new view of L&D, you will likely need to rethink your team makeup.
Building An In-House Learning Management System: 4 Pros And 4 Cons To Consider
Should you build your LMS from the ground up or invest in a ready-made solution? In this article, I'll share 4 benefits and 4 drawbacks of building an in-house Learning Management System.
Microlearning: Technologies Used And Development Process
In this article, we will explore what technologies are used in microlearning, how a mobile-enabled microlearning digital platform helped an organization deliver continual training, and some crucial dos and don'ts of microlearning development.
eLearning Quiz Templates And Their Usage
A quiz is an essential and beneficial component of an eLearning course. It contributes to elevating the overall effectiveness of a course by increasing engagement level and heightening retention. Let's look at some of the interesting assessment templates.
Building An In-House Learning Management System: 4 Pros And 4 Cons To Consider
Should you build your LMS from the ground up or invest in a ready-made solution? In this article, I'll share 4 benefits and 4 drawbacks of building an in-house Learning Management System.
Mastering Deeper Learning, Part 1: Practice
In this two-part article we will explore the significant roles that practice and feedback play in promoting deep learning. Let's start with practice.
Instructional Designer (ITC)
CSU San Bernardino seeks a dynamic, energetic and self-motivated individual to provide assistance in instructional design and in building online courses and holistic degree programs to support the University's initiative for online and hybrid programs. The successful candidate will consult with faculty on instructional design, its processes, methodologies, timelines, and costs.
Digital Learning Designer (Limited Term)
The University of Notre Dame's Office of Digital Learning is seeking a skilled digital learning designer to join our team and work with faculty to create unsurpassed educational experiences based in the sciences of learning.
Lighting & Lighting Control eLearning Educator
Responsible for designing new, innovative, engaging, eLearning content from highly technical lighting, lighting control, and utility industry provided materials.
Instructional Designer
eLearning Instructional Designers work closely with sales staff, clients, project managers, developers, and other instructional designers in the pursuit of creating e-Learning that fulfills eLearning Brothers' Custom mission statement: to delight our customers with deeply immersive and visually explosive eLearning experiences!
Instructional Designer, e-Learning
Our ideal Instructional Designer, e-Learning has three to five years of experience creating digital learning experiences for adults. Well-versed in instructional design methodologies, they are fast-paced, production oriented and possess a strong eye for visual design.
OEB Global: Call For "More Flexible Education Systems"
Education systems will need to be much more flexible, in order to cope with the demands of an age of increasing uncertainty.
G-Cube's 4th Consecutive Inclusion In Top 20 Gamification Companies List
TrainingIndustry has reckoned G-Cube among the Top 20 gamification companies of 2017. G-Cube demonstrates its excellence in offering customized learning experiences while adopting the latest trends and technologies.
Financial Post Recognizes Udutu!
Sometimes businesses fail because they are based on innovations that are ahead of their time, but Udutu Learning Systems simply waited for the rest of the world to catch up and have been thriving ever since.
EI Design's Offer: Gamification On A Shoestring Budget
Game mechanics with leaderboards and rewards prompt excitement and encourage the workforce to explore more. Incorporate gamification in corporate training—a very effective and engaging way into your learning strategy—with us at as low as $5000.
Kallidus Learn Wins UXUK Award For Best Learning Experience
Kallidus, an award-winning provider of learning and talent management solutions, has won a User Experience UK Award (UXUK) – the UK's most prestigious User Experience Awards – for its next-generation learning platform, Kallidus Learn.
ATD TechKnowledge 2018
TechKnowledge will get you up to speed on what's hot in learning tech, and provide you with the hands-on experience you need to effectively incorporate the latest methods into your learning programs. The conference is scheduled for January 24-26, 2018.
How Nielsen Increased Learning Output With Employee Generated Learning
Danielle Walker (Director Solutions Development, Nielsen) and Kasper Spiro (CEO, Easygenerator) break down how Nielsen managed to increase learning output by using employee-generated content and significantly reduce the cost per course. Join them on the 24th of January, 2018.
New Year, New Trends In L&D
Join ttc Innovations as we drop the ball on emerging and continued trends influencing the world of Learning and Development!
Using Agile Methods For HR And Learning Projects
In this webinar, we talk to a panel of Agile specialists who take a deep dive to provide some clarity and a practical road-map for using Agile methods in HR/L&D.
Learning • Technology • Design™ (LTD)
Learning • Technology • Design™ (LTD) is an extended virtual conference designed specifically for professionals in the business of continuing education and professional development.
Digital Marketing For Businesses Infographic
Are you interested in Digital Marketing For Businesses Infographic? Check all the facts and trends in Digital Marketing and help your business grow.
5 Ways Online Training Can Improve Your Company Infographic
Online training can be extremely effective. Take a look at the Online Training Can Improve Your Company Infographic and find all the possible ways to do it.
5 Benefits of Speaking Multiple Languages Infographic
The 5 Benefits Of Speaking Multiple Languages Infographic shows 5 important benefits of speaking multiple languages that you probably weren't aware of.
Why Employee Engagement Matters Infographic
Find out all about employee engagement in this why Employee Engagement Matters Infographic to help your organization grow fast and steady.
eLearning Trends To Watch Out For In 2018 Infographic
This infographic from Zeqr reveals some interesting stats about the current statistics, eLearning trends, most popular eLearning platforms and much more.
Adobe Captivate – Automatically Close The Table Of Contents
Steve from the Adobe eLearning Community asked a follow-up question to my video about using the in-built table of contents feature. He asked is there a way to make the table of contents disappear once you have clicked on a link within it? In this quick tip, I will answer his question.
Effective Work Site Orientations Online
To get the best results out of your employee development program, efforts have to start with your company's very first training experience: the new hire orientation. When done correctly, site orientations can provide new hires with insight into the existing company culture, specific company policies and procedures, and much more.
See our full eLearning Archive