This Week's Best eLearning News and Articles (Issue 261)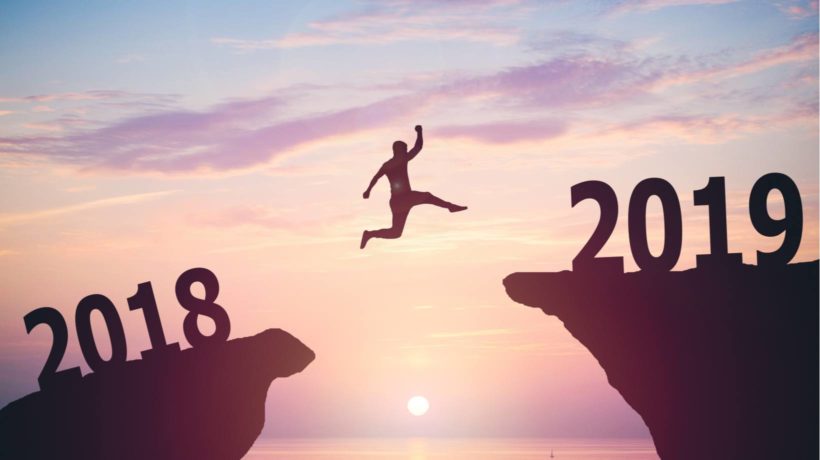 9 New Year's Resolutions eLearning Pros May Want To Add To Their List (2019 Edition)
Have you already set your resolutions for 2019? If you're still trying to formulate your list, this article will help you make, and keep, your yearly resolutions to achieve eLearning success.
7 Questions You Need To Ask When Choosing An Authoring Tool
Choosing an authoring tool that suits your purpose can be a tricky and in-depth process. To help you out, we've put together the key questions you need to ask when considering which authoring tool is right for you.
Why Software Onboarding Is Key To Strong Performance
The onboarding process and the time between rollout and when a client can successfully begin to use a product, is particularly crucial for software publishers. This is true for employees as well. Here is why.
CMS Vs. LMS: Key Differences Between Course Management Systems And Learning Management Systems
What is the difference between a CMS and an LMS? Does your training business need one of them, or both? Find out below!
The 5 Whys: Is Training The Answer?
To determine whether your organization needs a training program, first ask the 5 Whys to improve your Instructional Design practice.
How Τo Boost Employee Performance With Virtual Reality Training (VR)
Virtual Reality training (VR) can make new hires feel confident in their roles, mitigate stress in high-risk positions, or even enhance customer service. Let's explore some of the ways VR training can boost employee performance.
Converting ILT To eLearning: Common Pitfalls And Their Solutions
Converting instructor-led training material to eLearning has its share of pitfalls. However, these are easy to overcome with a little planning and forethought. Read this article to know how this is possible.
How Can You Combine Mobile Learning And Gamification To Create High Impact Training?
Mobile learning and gamification are 2 leading trends that are used extensively in online training. In this article, I share insights on you how you can amplify their impact by combining their powers.
How To Get Your Employees To Make Time For Training
Until science discovers a way to transmit new knowledge directly into our brains, the success of a training program will remain based on learners sitting down to study. In this article. we give you 5 suggestions to help you engage, motivate, and empower your employees to learn.
6 Ways To Use Learning Games In Learning And Development
There are different ways to use learning games and the one you go for will depend on your budget, the time you have and if it can deliver what you need.
Essential Elements Οf Interactive Learning
Educators and trainers across the globe are dealing with constantly dropping learner attention spans. This article focuses on interactivity as one of the best approaches to address this challenge and lists down some of the most essential elements of interactive learning.
6 Steps To Create And Deploy An Effective Mobile Learning Strategy
Debbie Richards, the president of Creative Interactive Ideas and one of the most influential experts in corporate eLearning, explained how to create a mobile learning strategy and launch a mobile Learning project in 6 steps during a webinar for iSpringers this winter.
How To Optimise Your Compliance Training Strategy
Optimising your compliance training strategy can help to increase ROI, decrease your impact on the environment, and improve efficiencies throughout your organisation. Where can you start? Take a look at our 5 questions to consider.
7 Foundation Skills Development Mistakes To Avoid In Corporate Training
Foundation Skills training covers a wide variety of areas. It can be hard to know where to focus or how to implement them in your organisation. But they provide the basics of business literacy and are vital in the development of the people in your organisation.
"We Want Training!": When Client Expectations Stop L&D From Modernising
L&D have to stop this silliness of working on something because we've been asked to – or because it's the latest thing. We need to invest up front in understanding what's really going on and relying on data to make decisions and progress.
5 Benefits Of Using Custom eLearning Solutions In Your Corporate Training
Thinking of making the leap to custom eLearning? Here's why it benefits you, your company, and your bottom line.
7 Best Practices For Effective Custom eLearning Content Development
Read on to learn about some helpful tips for developing great custom eLearning content. This article takes you from the initial kickoff meeting through the development of a finished product.
4 Things You Should Know Before Working With A Training Vendor
If you've thought about collaborating with a training vendor, here are 4 things you need to know to make the process go smoothly.
Let's Distinguish Online From Virtual: It's Time To Stop Calling All Online Interactions "Virtual"
Re-evaluating the use of the word "virtual" in eLearning, and trying to distinguish online from virtual when it comes to eLearning experiences.
Taking A Closer Look At Moodle And Totara
Moodle and Totara are two Learning and Management Systems that have over 150 million users combined. Learn what makes these two systems different from each other and why they appeal to different organisations.
8 eLearning Trends To Adopt In 2019
Everyone's talking about implementing AI and VR on eLearning platforms. But is that really the answer to running a successful eLearning website? Well, maybe not. There are a bunch of other effective features which are a lot easier to implement, affordable, and easy to adopt right away.
Six Predictions For Learning And Development In 2019
The Financial Times | IE Business School Corporate Learning Alliance 's annual crystal-ball gazing exercise focuses on the continuing digital revolution
AllenComm Wins Eight Training Αnd Development Awards
L&D industry awards presented to AllenComm for performance support, sales training, and training content.
Engage In Learning Offers Ten Predictions For eLearning In 2019
Engage in Learning, the eLearning supplier, has followed the well-honoured tradition of offering ten predictions for the eLearning sector in 2019.
iSpring Wins Two Gold Brandon Hall Group Excellence Awards In Technology
iSpring Solutions, Inc., an innovation leader in digital learning solutions, won two Brandon Hall Group Gold awards for Excellence in Technology.
EI Design Hosts A Successful Webinar On Practical Approaches To Determine The ROI Of eLearning And Releases An Updated eBook On The Same Topic Featuring A Case Study
The updated eBook "Practical Approaches to Determine the ROI of eLearning – Using Kirkpatrick's Model of Training Evaluation with a Case Study" includes a detailed Case Study. The featured Case Study demonstrates how you can measure and maximize your ROI using the approaches and tips outlined in the eBook.
Scaling Your Training Operation With Disruptive Innovation
The webinar Scaling Your Training Operation With Disruptive Innovation is sponsored by eLearning Industry and presented by Bob Sabra, Vice President of Operations at Administrate. In this webinar, Bob will demonstrate how Administrate can help you set up a successful and scalable training operation with Disruptive Innovation.
Dynamic Video Interactions For Increased Engagement
This webinar showcases one of the best-rated, most popular sessions, speakers, or topics from Learning Solutions 2018 Conference & Expo, now available to all through this special online presentation.
10 Marketing Strategies That No LMS Company Can Live Without
The webinar 10 Marketing Strategies That No LMS Company Can Live Without is sponsored by eLearning Industry and presented by Gordon Johnson, a marketing leader in the corporate L&D industry for over twenty years. In this webinar, Gordon will share the 10 marketing strategies that you have to execute to be successful in LMS market!
ATD LearnNow: Learn xAPI Workshop
Be guided through the development of your own xAPI-enabled project at this 1.5 day, hands-on workshop.
ATD xAPI Workshop (Held In Conjunction With TechKnowledge 2019)
Be guided through the development of your own xAPI-enabled project at this full-day, hands-on workshop.
Accelerate Employee Engagement With Mobile-Based Corporate Training Program Infographic
In this infographic, we show how mobile-based corporate training programs can drive employee engagement.
4 Must-See Examples Of Gamification Of Compliance Training Infographic
Compliance trainings have been a significant part of corporate trainings for a long time now, they have been in the online format for the last 25 years. There have been a lot of changes since then in the way learning strategies are structured. And, compliance trainings have not yet used any new strategies to enhance the experiences of the learner.
A-Z Of Graphic Design Infographic
Graphic design can be a vast and wild landscape to go through. Between illustration, typography, photography, screen-printing…. it can be hard to know your bleed from your body copy! This is by no means a dictionary of terms, but we hope this infographic helps you get through some of the jargon that you probably hear a lot in your day to day business.
5 Worth Knowing Benefits Of The Robotic Process Automation (RPA) Technology For Businesses Infographic
Robotic Process Automation (RPA) can be said the technology of the present age where automation is of prime importance. RPA is being used in industries such as IT, BPO, Healthcare, Insurance, Banking, Utilities, and Manufacturing, to name a few.
Measuring And Making The Most Of Metrics [Infographic]
This infographic will explore what organizations are actually reporting on and how often, how they produce reports, and what they do with this data. This will enable us to understand whether the organizations could be reporting more efficiently and focus on how to gain the most value from metrics.
Versal Quick Start Guide 2018
Here's a quick look at how easy it is get started creating interactive eLearning content on Versal.
What Is Bespoke eLearning Featuring 6 Killer Examples – EI Design
The edge that a bespoke or custom developed course has over off-the-shelf course is well established. Go through this video that illustrates the power of bespoke eLearning to create sticky learning through 6 examples.
See our full eLearning Archive