This Week's Best eLearning News and Articles (Issue 275)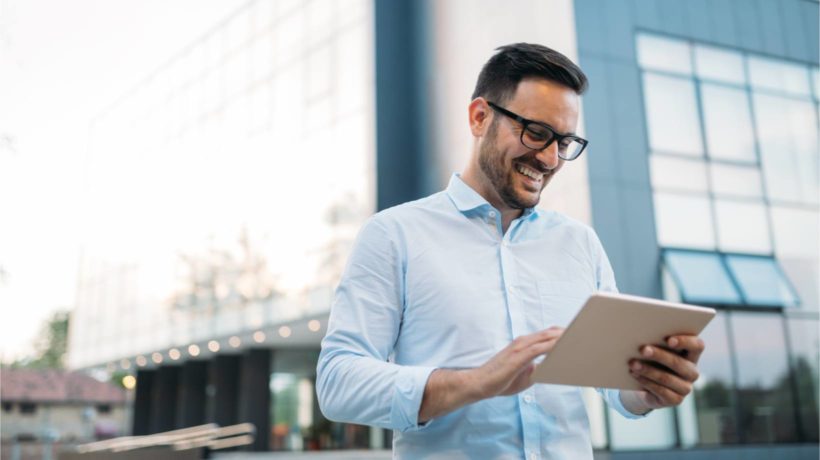 Free eBook: Transform Your L&D With Digital
Corporate eLearning is subject to rapid changes; this is why you have to keep your employees' expectations in mind at all times, as they change too. Staying up-to-date is easier than one might think. After all, technological innovations are here to lend a helping hand, apart from speeding up the pace. This must-read will fill you with insight that will allow you to confidently empower your employees to be self-sufficient, thus gaining multiple professional benefits.
5 Reasons To Track Employee Training In The Onboarding Process
Find out why tracking employee training during the onboarding process is a great idea and key to setting up good training habits in your business.
How To Know If You're Ready For Augmented Reality
If you're hoping to incorporate Augmented Reality or Virtual Reality into your training strategy, you'll want to read this first. Discover how the AR/VR movement can benefit your company and how to know if you're ready for it.
Rapid eLearning: Reinventing Training For The 21st Century Learners
If organizations wish to see business results fast, they must invest in rapid eLearning solutions. Confining training to obsolete strategies, such as ILT alone or Flash-based courses, would mean that employees will lose out on productivity, which in turn will hurt the organization's business.
5 Criteria To Choose The Ideal Vendor For Your Virtual Reality Training Program
Many companies are realizing the power of a Virtual Reality training program. However, there are many factors that need to be considered before selecting the vendor right for you. In this article, I share 5 criteria to help you select the ideal vendor for your Virtual Reality training program.
Establishing A Learner-First Training Model
In a learner-first training approach, trainers always start with the learner. The learner is the basis for every aspect of a company's training strategy; from the company's learning goals to their learner pathways, to the tools that they choose to train and the way they design their training.
How Personalized Gamification Can Increase Learner Engagement
Gamification for learning provides highly engaging and immersive learning experiences. In this article, I outline how you can enhance its impact further by using personalized gamification techniques.
Content Is King: 10 Tips For Improving The Content Of Your Training Courses
If your corporate training material is poorly created, there's no amount of dressing it up with photos and multimedia that will save it. Great content, however, will. In this article, we give you 10 evergreen tips on creating engaging training content.
Localizing eLearning Content Is Just As Important As Globalizing A Brand
Globalization has provided the opportunity for many countries to expand their products or services into new countries and cultures. But, this expansion has not been without missteps. Learn how to avoid costly mistakes when localizing Learning and Development content for a global audience.
xAPI – The Future Of Personalised Learning?
xAPI, or Experience API, or Tin Can API is one of the biggest developments in Learning and Development. Here's how it could impact personalised learning.
Developing Custom eLearning For Corporate Training
Emphases on content, delivery, and compliance issues often trump other key components of developing corporate training. Learn 5 common pain points and how to break out of this myopic view so your next eLearning program will inspire your learners and get the results you've been missing.
Using Powerful LMS Reporting To Enhance Mobile Learning Content Delivery
Understanding the best content for learner engagement starts with reliable reporting. What metrics should you be looking out for within your LMS? How can these metrics shape your mobile learning content moving forward? Find out more below.
How To Master Your Foundation Skills Training Programme With Learning Pool's eLearning Modules
Foundation skills are the basic elements of business literacy. They are the essential skill sets a modern employee needs to progress. Without them, people will struggle in their jobs and development may pass them by.
Learning & Development And Data Analytics
If we're not being asked already, we will be asked for the data, by our leaders and our stakeholders. So let's develop ourselves and disrupt our own practice before we're disrupted from outside. This is a huge opportunity for us, and it's up to us to grab it.
10 Questions To Consider When Selecting A Custom eLearning Content Provider
If you are screening custom eLearning content providers, start here for a list of questions to guide you in the process.
How To Evaluate A Staff Augmentation Company That Provides Temporary L&D Professionals
Your team is only as strong as the talent that supports it. One established and versatile way to add talent to your team is to bring people on temporarily. If you're opting to go that route, here are some considerations to evaluate a staff augmentation company.
5 Fresh Ideas for Measuring Training Results
If you're like me, you absolutely love the thrill of setting goals. There is a certain inherent optimism in noting what you consider to be your ideal performance. Deciding what you want to achieve is the rosy, fun part.
7 Signs You Might Need To Outsource Your eLearning Writing Content
eLearning is the fastest growing method that learners consume training content today. As a result, more and more organizations are committing significant resources to write eLearning courses for internal and external learners.
Technologies Which Have Caused A Paradigm Shift In The eLearning Sector
With faster and more reliable networks, advancements in mobile hardware and AI as well as the incorporation of technologies like AR/VR have ensured that eLearning will be part of mainstream education in the not so distant future.
5 Common Mistakes To Avoid When Choosing Employee Onboarding Software For Remote Sales Staff
The efficacy of your onboarding process is almost entirely dependent on the training medium you select. What errors should you look out for as you make your final decision?
6 Unconventional Content Marketing Techniques To Promote Your LMS
Do you need to offer your prospects something new and innovative to improve your conversions? In this article, I'll share 6 unconventional content marketing techniques to promote your LMS.
LEO Learning Wins Best Game-Based Solution At Learning Solutions 2019
The award recognizes LEO Learning's partnership with Godiva to develop a visually engaging blended learning program to increase employee knowledge and confidence to sell luxury chocolate.
New Video Editing Features In iSpring Suite
iSpring Solutions, a leading eLearning software vendor, presents brand-new enhancements to the iSpring Suite authoring tool. The update equips iSpring Suite's video studio with new options for creating and post-processing professional video courses.
Innform: New Hospitality Training Tool Can Free You From Management Hell
Once upon a time, two entrepreneurs witnessed a major problem: as hospitality companies grew, they struggled to keep up with staff training. An effective and affordable hospitality training tool became desperately needed.
EI Design Completes A Successful Webinar
After hosting a successful webinar on Next Gen Gamification solutions, EI Design releases a Free eBook on "How To Enhance The Impact Of Your Corporate Training With Next Gen Gamification Solutions."
Partnership Modernises On-The-Job Impact Assessments
A new on-the-job impact assessment tool for executive education has been deployed in a partnership between Financial Times | IE Business School Corporate Learning Alliance and The Honeycomb Works.
USciences & NEELC eLearning 3.0 Conference
This conference is an annual event showcasing the use of technology to enhance teaching and learning in higher education. Share best practices and creative approaches for learning enrichment and student engagement.
Science Of Learning Summit
We're able to shift performance when we have a better understanding of how people learn, their motivations, their barriers, and abilities. Explore the research that will help you create impactful learning experiences.
EMOOCs 2019, European MOOCs Stakeholders Summit
This conference carries forward the debate around strategic policy for multimedia and open learning. It is positioned at the MOOC crossroads where the interests of business and academia converge.
SweetRush At The 16th Financial Services L&TD Innovations
SweetRush's first client was in financial services, and they are still a client today and will be in attendance at the conference. These are the kinds of relationships upon which SweetRush and its client-partners thrive.
70:20:10 Summit 2019
The place where, every year, Learning Experts around the whole world share stories of successfully aligning L&D with Business and collaborate together with the participants to strengthen the transition from Learning Value to Business Value.
10 Myths About Professional Training
So there you have it: the most common myths about professional training debunked. The stats above speak for themselves, but let's look a little closer into what they're actually telling us about viable professional training options and how to make them work for you and/or your organisation.
Unlock The Power & Potential Of A Mobile-First Content Strategy
Traditional methods for distributing information via paper or network-reliant shared drives are being phased out in favor of modern, mobile solutions that enable real-time updates, tightened security, personalized and filtered content delivery, and enhanced operational performance reporting.
When To Opt For The RECORD Conversion Methodology In Flash To HTML5 Conversions
So, you have eLearning courses developed in Flash but without source files? Does this mean you will have to bid goodbye to all those courses? Can you still convert them from Flash to HTML5? The good news is you can. But how? The right Flash to HTML5 conversion strategy to use in this case is the Record option.
4 Amazing Features Of Lectora Inspire For Rapid eLearning
Rapid eLearning is the order of the day because it aims at quick completion of online training development and cuts down the cost involved in eLearning development. When you are required to rollout training programs within a strict timeline, you have authoring tools to turn to for rapid eLearning development. Lectora Inspire is one such tool for rapid eLearning development.
6 Design Elements For An Effective eLearning Course
Imagine an eLearning course that simply requires learners to 'Click Next' throughout the course. Learners go through one slide after another without actually being involved in the course content. Can this be termed effective eLearning? Certainly not!
Interactive Video In Adobe Captivate 2019
In this video tutorial, I show you what I predict will be the standout feature of Adobe Captivate 2019, Interactive Video. I will show you how to add overlay slides to your videos, and interactive items like knowledge check questions. In addition, you will be able to easily add really cool remediation to your interactive videos.
5 Things You MUST Do While Creating An Interactive eBook
Interactive eBooks have picked up the pace given the benefit they've to offer as opposed to their counterpart physical books. Publishers are looking for ways to create an interactive eBook. Watch this video to know what you, as publisher, MUST keep in mind while creating one.
See our full eLearning Archive