This Week's Best eLearning News and Articles (Issue 277)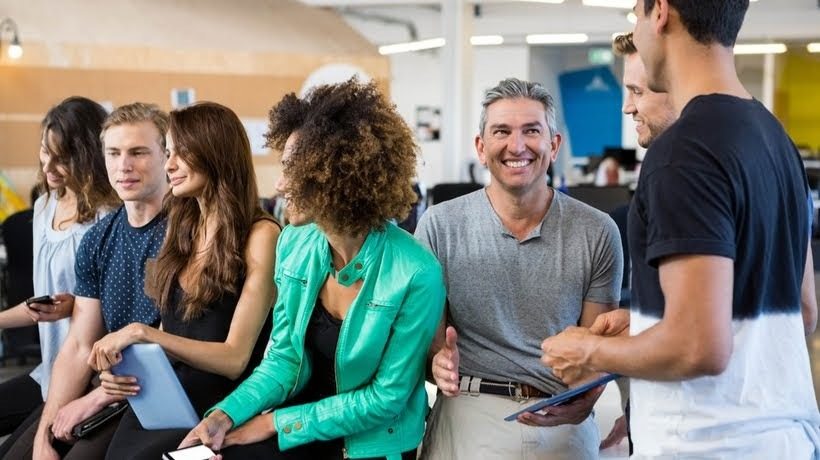 Free eBook: Compliance Training For The Modern Workforce
If you aim for improved performance, happy employees, satisfied customers, and aligning with rules and regulations all entwined, you must deploy compliance training that is designed for the modern workplace. And if this may seem to you as a higher level of difficulty for the task, Learning Pool is here to offer you all the advice that will make your organisation's life easier through successful compliance training.
Moving Out Of The Stone Age: Best Ways To Keep Your Training Content Up-To-Date
Updating your training may seem like a learning quagmire but it's actually a great opportunity to get a fresh start. Whether it's a simple facelift or a completely fresh approach to meeting your business goals, learner-focused changes can help your employees succeed.
The Importance Of Anytime Anywhere Learning In The Modern Workplace
Does your employee training provide access to learning when it is needed the most? In this article, I discuss Anytime Anywhere Learning and the importance of delivering training to your learners at the moment they want it, using the technology they prefer.
Taking Learner Engagement To The Next Level With A Mobile-Friendly LMS
Learner engagement is the ultimate goal for L&D, and mobile learning can be a route to improving it. Today, we're looking at how mobile impacts engagement, and why a mobile-friendly LMS is a vital part of the equation.
6 Best Practices To Define And Track Your Training Plan For Employee Onboarding
Find out the best practices you should be following when it comes to onboarding new team members.
7 Digital Learning Assets That Fit In The Learning Pyramid
Looking to raise the engagement and retention of training? Here are 7 digital learning assets that help in enhancing retention levels.
4 Easy Steps To Ensure The Success Of Your Learning Strategy In 2019
With Q1 of 2019 already underway, your learning strategy for the year may be in place, or it is being tweaked. In this article, I share 4 practical steps that you could use as you draw up or refine your learning strategy in 2019.
The World Is Your Office: Getting Enterprise Mobility Right
Ubiquitous connectivity has changed how we communicate and work. Today, we examine how companies can embrace enterprise mobility to increase their productivity and empower their employees.
Localizing eLearning Content Is Just As Important As Globalizing A Brand
Globalization has provided the opportunity for many countries to expand their products or services into new countries and cultures. But, this expansion has not been without missteps. Learn how to avoid costly mistakes when localizing Learning and Development content for a global audience.
How To Get People Fall in Love With eLearning: Theories!
When you set to design an exciting course, you should avoid all you found boring back in school. In this article, we'll take a look at 2 theories of learning you can use to increase your learners' engagement.
When Companies Should Invest In Custom eLearning
Whether or not to convert to custom eLearning can be a big decision, especially if leadership is partial to ILT and your reputation hinges on the outcome. Look at 4 components of eLearning beyond cost that drive value to see if it's right for you. It could be the best decision you make.
L&D Contracting: Outsource Your Entire L&D Project Or Bring On Temporary Staff To Get The Job Done?
When a client comes to us wondering if it would be better to outsource their project or add temporary talent to their team, our answer is always "it depends". Here's what you should consider when you face an L&D contracting decision.
Digital Natives Or Digital Immigrants?
The terms "digital native" and "digital immigrant" are invented by Marc Prensky. He proclaimed that digital natives and digital immigrants perceive and use technology in different ways as well as in learning. The differences between these individuals are addressed in this article.
The 'Cult' Of Learning… And The 3 C's To A Learning Culture
Cult. A word that sends shivers down the spine of most people. It's more ambiguous when the word 'learning' comes before 'culture'. But ask those leading 'learning cultures', and they'll say it's never about learning; it's about the contribution learning makes to results.
7 Popular Myths About New Hire Onboarding And Employee Onboarding Software
Is onboarding software solely intended for Fortune 500 companies with huge budgets? Don't all new hires require the same training? In this article, I explore the most popular new hire onboarding myths…then dispel them.
7 Questions To Determine If An Open Source LMS Is Best For Your Organization
Selecting the best LMS is an involved process. It all begins with an in-depth evaluation of your online training objectives, training needs, and the talents of your L&D team. This article features 7 questions to help you determine if an open source LMS is right for your organization.
A 7-step guide for eLearning Modernization
Everything needs an upgrade eventually, even a successful eLearning course. But is it really feasible to modernize an eLearning course without spending unnecessary time and money?
Why Employee Motivation Matters
You're watching your favorite crime show. The investigating team knows who committed the crime—all the pieces fit together—but they're missing one key element: a motive.
How Immersive Learning Engages Employees
"The greatest weapon against employee apathy is the training program," writes eLearning Industry. But that's easier said than done. It's not always clear how to make a training program maximally engaging.
The Top Priorities For eLearning Professionals In 2019
Technology is moving at break-neck speed and changing the world we live and work in at a similar pace. eLearning plays a pivotal role in these changing times, and eLearning professionals are the harbingers of this change. This article discusses what the top priorities should be for them.
AllenComm Takes Home 6 Horizon Awards For Custom Corporate Training
AllenComm wins interactive awards for custom sales enablement, compliance, brand, and onboarding courses.
Learning Technologies Group Acquires Breezy HR
Breezy HR brings a range of benefits to LTG, including strong organic growth potential, expansion of the Group's talent acquisition offerings, and the opportunity to rapidly enhance LTG's enterprise product
The Technologies Of The Future At The Service Of Training
DynDevice e-Learning platform for an increasingly complete, flexible, effective and modern management of corporate training courses.
LEO Learning Wins Best Game-Based Solution At Learning Solutions 2019
The award recognizes LEO Learning's partnership with Godiva to develop a visually engaging blended learning program to increase employee knowledge and confidence to sell luxury chocolate.
New Video Editing Features In iSpring Suite
iSpring Solutions, a leading eLearning software vendor, presents brand-new enhancements to the iSpring Suite authoring tool. The update equips iSpring Suite's video studio with new options for creating and post-processing professional video courses.
What The Best LMS Websites Do…And You Don't
The webinar What The Best LMS Websites Do…And You Don't is sponsored by eLearning Industry and presented by Lynne McNamee and Gordon Johnson. In this webinar, Lynne and Gordon will share with you what it takes to build a powerful LMS website and how to rise in the ranks on Google and win a future eLearning Industry LMS Website award!
USciences & NEELC eLearning 3.0 Conference
This conference is an annual event showcasing the use of technology to enhance teaching and learning in higher education. Share best practices and creative approaches for learning enrichment and student engagement.
Science Of Learning Summit
We're able to shift performance when we have a better understanding of how people learn, their motivations, their barriers, and abilities. Explore the research that will help you create impactful learning experiences.
Onboarding Overhaul: 5 Tips To Transform Your Training
Typical training methods only scratch the surface of effective onboarding. Discover how to deliver training and support tools for real business impact.
Developing Custom eLearning For Corporate Training
The webinar Developing Custom eLearning For Corporate Training is sponsored by eLearning Industry and presented by Dr. Jerry Zandstra, the Co-Founder of Inno-Versity. In this webinar, you will discover all the stages of a custom eLearning development process together with eLearning trends to include in your custom eLearning solution.
7+1 Content Marketing Trends – Infographic
In 2019, Content still remains at the core of all your digital and social marketing efforts. Its importance seems to grow from one year to the next.
Microlearning Trends To Adopt In 2019
Microlearning consists of short, bite-sized learning nuggets. Although short in run length (between 2-5 mins and, typically, not exceeding 7 mins), each nugget is action-oriented and is designed to meet a specific learning outcome.
How To Always Pick The Best Classes
Don't waste your time and money on the wrong course. In this infographic, you will discover the 10 top tips for choosing the best online courses.
The Evolution Of Flexible Workspace
Workplace customs and trends have shifted over the years. The typical workspaces as we knew it 10 years ago appears different from what companies offer today. Businesses are acknowledging the changes and seeing the advantages of adopting a modern office setting.
A Breakdown Of Blended Learning
Learn all about blended learning. What it is, models, stats and what the future holds.
Virtual Reality In Adobe Captivate 2019
For a few years, I've been listening to other Captivate developers talk about virtual reality and the dream to design 3D eLearning. That dream is now a reality with Captivate 2019. You can now create a virtual reality eLearning project that learners can view on their computer screen, mobile device and even use a VR headset.
Preview Your Adobe Captivate 2019 eLearning On Your Mobile Device
Before Captivate 2019, if I wanted to preview my designs on a mobile device, I had to publish the whole project, upload it to my web server, email myself a hyperlink and then launch the course from my mobile device. In this video tutorial, I show you how easy it is to do the same thing just by using a simple QR Code reader in iOS or Android devices. No web server required.
See our full eLearning Archive