This Week's Best eLearning News and Articles (Issue 279)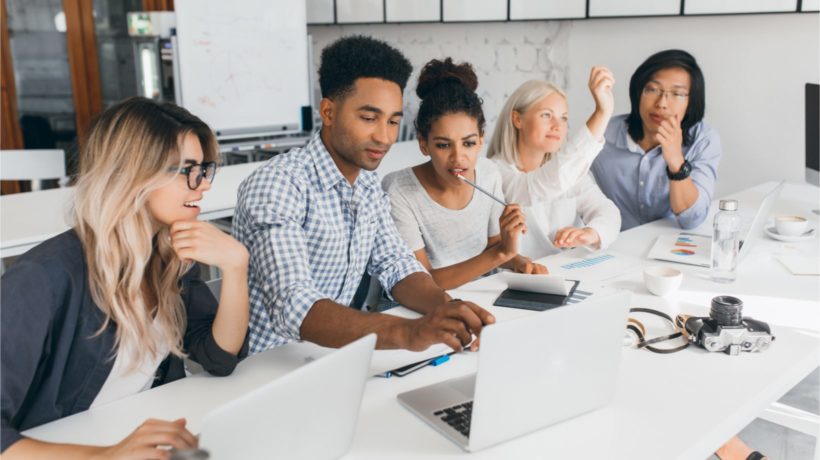 Free eBook – eLearning Industry LMS Report: Most Valuable LMS Features
Every survey report serves a purpose and is helpful for a certain audience. What this edition offers goes beyond that, as it affects the eLearning industry in most of its layers and achieves to promote more than one purposes. If you are an LMS vendor, an eLearning professional, or an organization leader, you'll find great use in these answers –collected from nearly 1000 respondents– about the most valuable LMS features for 7 types of organizations.
The Power Of Thought Leadership In The eLearning Industry
Engaging your audience requires more than high-quality and thoughtful content. You must also allow readers to get to know you. How can you achieve this through thought leadership? In this article, I'll share 3 tips to become a successful thought leader and enrich your content marketing strategy.
9 Stages Of The Custom eLearning Development Process 
Whether new to custom eLearning or a seasoned pro, you will appreciate this solid overview of the development process, as well as the insider tips. Avoid costly mistakes on your next project, stay on track, and deliver relevant and engaging content that fits your learners and gets the job done.
What's The Difference Between Localization, Translation And Globalization? 
Learn why translation is simply not enough for a global audience. We'll discuss the complexities involved with globalization and localization and the elements that you must consider with eLearning initiatives, in particular.
Getting It Right: 7 Ways To Improve Your Corporate Training Program
Creating a corporate training program that works and aligns with your company's goals is hard. This list of 7 actionable tips based on years of corporate training experience will make it easier.
Microlearning Trends To Adopt In 2019
As microlearning-based training moves to center stage, I outline what is driving its rapid adoption. In this article, I also share microlearning trends in 2019, and how you can leverage them to boost employee performance.
The 5-Step Process To Ensure A Robust Blended Learning Strategy
Organizations today can't rely on just Instructor-Led Training or online learning in isolation to address changing learning needs. To offer an all-around training to learners, the best of both ILT and eLearning need to be combined. This is what blended learning is all about.
5 Features Your Training Tracking Software Should Have For Effective Employee Onboarding
Find out the features your training tracking software needs to have so your employee onboarding goes as smoothly as possible.
7 Ways A Custom Mobile Learning Solution Can Empower A Remote Workforce
Many companies today are taking advantage of the benefits gained by having a remote workplace. With the need for employee training being high, mobile learning is a perfect method to prepare personnel. Read this article to learn 7 ways a custom mobile learning solution can empower a remote workforce.
Maximizing Mobile Learning ROI With A Mobile-Friendly LMS
Mobile learning is becoming increasingly important in the world of Learning and Development. The need for a mobile-friendly LMS should be clear, but what is its impact on learning ROI? Find out more below.
How a Learning Portal Keeps Training Solutions Running
What's your first interaction at a restaurant? If it's anything like the pizza joint I worked at in college, it's the warm, inviting host standing within view of the entrance. Restaurant managers often pick the friendliest face to represent their brand and make a good first impression. It's the same with instructional design.
What Can the Corporate Training Industry Learn from Online Shopping?
Customer experience and engagement are one of the best marketing investments a company can make. The way online retailers craft their customer's experience is a lot like crafting a learner's experience in professional training. Each aspect of learning present on an e-commerce site works towards an objective which will ultimately benefit customers and increase sales. The effort and thought that goes into an employee's experience should be as important, if not more so, than the customer experience.
Supporting Learners on Their Learning Path to Success
Much like life, learning is about the journey, not just the destination. At different places along their learning paths, learners will need different tools and information.
How To Use Bloom's Taxonomy For Business
Bloom's Taxonomy represents different levels of learning and should be utilized when training objectives are developed to understand how to train the task, how much time the training will take, and how to measure successful learning when the training is complete.
Successful Role-Play For Learning Online
Role-play is something we see children doing every day, playing and testing the roles they dream to become one day. And for many years, it has become an established, very effective way of delivering training. But how is something, that is all about the face-to-face experience, done effectively online?
The Power Of Feedback In eLearning
"Feedback is one of the most powerful influences on learning and achievement, but this impact can be either positive or negative". All you ever wanted to ask about feedback but never did.
Learning Curve: How Employers Can Change Steep To Genial Learning Experiences
There's plenty of evidence, both anecdotal and empirical, that if you try to teach someone new things when they are anxious, the result is often counterproductive. So, what can employers do to help transform a steep learning experience into a more genial and smooth learning curve?
8 Tips To Retain Your Top Talent With Self-Paced Online Training
Are you giving your in-house VIPs all the resources they need to continually expand their knowledge? The 8 tips you'll find in this article can help you retain your top talent with self-paced online training.
7 Types Of LMS Support Services To Consider
From live chats to online training libraries, there is a broad range of LMS support options. In this article, I'll explore the 7 types of support services to consider when choosing your next Learning Management System.
3 Key Things To Remember When Moving Your Training Online
By switching your manual training to online training, your organisation can consolidate and optimise your training materials, adding value to your organisation. Learn about the 3 key things to remember when moving your training online.
Mobile Learning Facts You Didn't Know As An L&D Manager
Mobile learning is a reality for all corporate training. In this article, we will present several concepts to consider when incorporating mobile technologies in the adult learning environment.
LEO Learning Recognized As A 2019 Training Outsourcing Top 20 Company
Training Industry honors LEO Learning for helping organizations transform their corporate learning and drive business success
Sponge Moves Into Dublin's 'Silicon Docks'
Europe's largest independently-owned custom digital learning provider, Sponge, has moved into Dublin's 'Silicon Docks' region, cementing its presence in Ireland and supporting the company's ongoing overseas growth ambitions.
Engage In Learning Makes An Appearance At CIPD's Festival Of Work
The eLearning supplier, Engage in Learning, will be dispensing its experience and expertise at the Festival of Work. This CIPD-organised conference and exhibition takes place in London's Olympia on 12th and 13th June.
HDI Report: Gov, Education, & Healthcare Lead All Industry Sectors In ITSM
HDI releases report showing that ITSM departments in government, education, and healthcare out-perform their peers in business.
EI Design Wins 8 Awards At The 2018 Horizon Awards
EI Design was the top prize winner at the 2018 Horizon Awards. Each entry by EI Design has won an award including 3 golds in a wide range of categories confirming its continued commitment to quality and excellence.
Developing Custom eLearning For Corporate Training
The webinar Developing Custom eLearning For Corporate Training is sponsored by eLearning Industry and presented by Dr. Jerry Zandstra, the Co-Founder of Inno-Versity. In this webinar, you will discover all the stages of a custom eLearning development process together with eLearning trends to include in your custom eLearning solution.
EMOOCs 2019, European MOOCs Stakeholders Summit
This conference carries forward the debate around strategic policy for multimedia and open learning. It is positioned at the MOOC crossroads where the interests of business and academia converge.
Rapid eLearning Creation Using New Asset Library From Adobe Captivate
The webinar Rapid eLearning Creation Using New Asset Library From Adobe Captivate is sponsored by eLearning Industry and presented by Dr. Allen Partridge, Adobe's Principal eLearning Evangelist. In this webinar, Allen will walk you through an overview of Adobe Captivate's latest release which makes creating your eLearning content easier than ever.
6 Steps To Incorporate Career Mapping Into Your Digital Training Strategy
The webinar 6 Steps To Incorporate Career Mapping Into Your Digital Training Strategy is sponsored by eLearning Industry and presented by Ryan Macpherson, CEO and co-founder of Coassemble. In this webinar, you will discover how to incorporate career mapping into your digital training strategy using a learner-first approach.
7 Deadly Sins Of Virtual Presence
Meetings, presentations, sales, and training sessions are increasingly performed virtually. For those who are used to training face-to-face, going virtual can be a challenge. Seasoned professionals may have blind spots & amateurs often struggle.
Adobe Captivate Video Demo Now With Webcam
In this video tutorial, I show you how you can record and insert clips from your webcam into your video demo tutorials recorded in Adobe Captivate 2019 Release.
How To Make Your Best PowerPoint Presentations That Are Persuasive, Engaging, And Beautiful
In this video, we will share top tips on how to maximise your Hypersay presentation.
See our full eLearning Archive