This Week's Best eLearning News and Articles (Issue 289)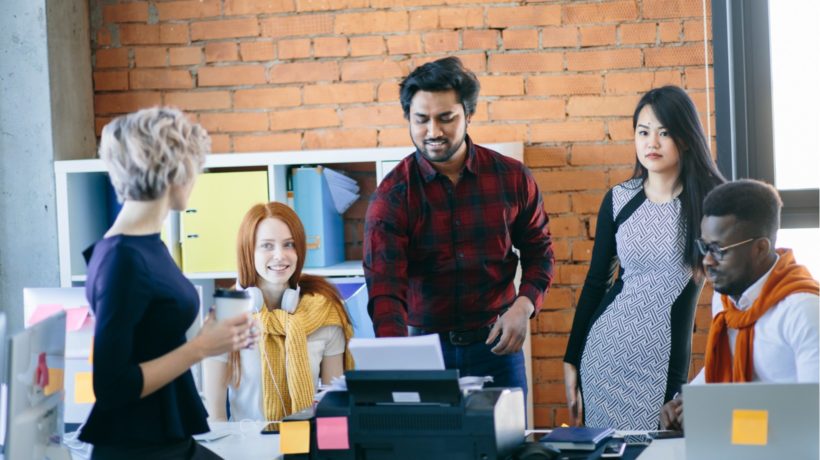 Free eBook: Creating An Impactful eLearning Localization Strategy – A Complete Guide For L&D Professionals
90% of people want to learn in their native language. You learn faster and easier when the content being taught is in your mother tongue. Being able to comprehend better overall also positions someone to make a more confident and meaningful contribution to internal work processes; from everyday interactions and meetings to complicated and challenging projects. This eBook examines the importance of a proper eLearning localization strategy.
Distributing And Maximizing Your Content Marketing Efforts As An eLearning Marketer
Great content without equally great distribution is by all means not enough. Also, simply sharing content on social media platforms does not count as an effective distribution strategy. How can you succeed in distributing and maximizing your content marketing efforts in your company? In this article, I'll share tactics to distribute your content without relying on social platforms.
How To Personalize Corporate Training With Videos
Today's learners are an impatient lot, and they want training that is personalized for them. In this article, I show you the value of a personalized learning plan, and how you can leverage on video-based learning to enhance this further.
6 Pain Points To Consider In Custom eLearning Development
Custom eLearning development can be effective, but the process is fraught with obstacles. It is prudent to plan for—and work your way around—these hurdles right at the planning stage. After all, being prepared is half the battle won!
7 Tips To Find A Flexible Mobile LMS App For Your Blended Online Training Program
Everyone on your team should be able to access training tools whenever the need arises. But how do you find an LMS that provides mobile-friendly AND face-to-face support?
How To Use Reports To Help Learners Commit To Training
Engagement and motivation can be the greatest obstacles to learning. The way over these obstacles lies in LMS reports and analytics that empower employees to achieve their training goals. Here are 4 ways your learner reports can boost commitment to training.
6 Ways Your Training Company Will Benefit From A Mobile LMS
Find out why a mobile LMS could be a fantastic addition to your training company!
Top Channels To Promote Your eLearning eBook For Maximum Effect
Promoting your eBook is a crucial step you shouldn't miss. In this article, I'll share 3 channels through which you can create an organic marketing plan to promote it successfully, make it appeal to different audiences, and provide relevant content.
6 Easy Steps To Integrate A Foundation Skills Catalogue In Corporate Training
Foundation skills encompass the core skill sets that people need in order to be successful in business today. They provide the foundations for general business literacy. In a modern, corporate environment, where we need to be flexible to thrive, these foundation skills catalogues provide the necessary tools.
6 Ways To Adapt Your Mobile Learning Strategy To The Needs of Modern Learners
Integrating mobile learning into your ongoing strategy is becoming more and more important. However, using mobile devices isn't enough to keep modern learners engaged. How can you adapt your mobile learning strategy to the needs of modern learners?
How To Increase Followers For Your Business On Social Media
With the evolution in technology, the business world is also growing to a higher extent with the help of social media. To promote a brand on a social media platform is a great way to achieve a good number of followers. It is essential to learn a few ways to make an effective mark on social media.
How To Use Animation In eLearning
In order to engage the learner of today, eLearning courses and modules need to be on par with the visual imagery modern learners are used to; the one they engage with every day while they surf the net, scroll through social media, watch movies and gaze at advertisements. Why do you think these industries use visuals so much? Because we, human beings, respond best to visual stimuli.
How to Harness Learner Motivation
Educators, marketers, politicians, health professionals, parents, and several others who find themselves in a leadership role have spent considerable time strategizing how to motivate their workforces to learn and apply new skills. In the realm of behavioral science, researchers have come a long way from the "carrot and stick" ways of the past.
4 Keys for Innovative Compliance Training
In an era of increasingly complicated regulations and frequent corporate scandals, compliance training is vital for most companies. Acting in accordance with rules, regulations, and laws help keep companies away from lawsuits and fines. However, the Brandon Hall Group found that only 40% of businesses say they are thoroughly prepared for a compliance audit in 2017.
Can Microlearning Lead To Behavior Change?
Can bite-sized learning lead to deeper learning and prompt behavior change? What can Instructional Designers do to enable this process?
Beyond Current LMS Myopia: The Future Lies In 360° Support Systems
LMS technology has enabled a journey from learning delivery to learning support and now to also potentially supporting performance excellence. The latter is a realistic outcome if ODS and PMS best practice are integrated into LMSs to create a 360°, multi-dimensional organizational support system.
How Can Interactive Video Elevate Your eLearning Strategy?
Videos are continuing to prove that they improve learning, but why are interactive videos more beneficial to your eLearning strategy?
Top 5 Ways To Incorporate Mobile Learning Into Your Training Strategy
Read about the top 5 best ways to create a mobile learning strategy that will motivate your employees, tackle tech restraints, and get results.
SCORM Is Dying, Long Live xAPI
SCORM, in all its incarnations, has been a constant within the eLearning community for well over a decade, 18 years to be exact. Since then, technology has left the standard in the dust with users looking for new and more detailed ways to track learner journeys. In truth, SCORM is dead.
Do You Get What You Pay For? 7 Tips To Find A Value For Money LMS And Maximize ROI
A Learning Management System is a sound investment only if it helps you achieve your organizational objectives and delivers a positive User Experience. In this article, I'll share 7 tips to find an LMS solution that delivers the best ROI.
GuyKat Names New COO To Drive Expansion
Mark Broadbent has been named Chief Operating Officer by GuyKat. The new role will focus on leading the eLearning agency's aggressive expansion plans.
LEO Learning Celebrates 5th Year Of Innovative Digital Learning
LEO Learning, the global market leader in digital learning innovation, is celebrating its fifth birthday this July.
New iSpring Learn LMS: The Next Level Of Learning Automation For Admins
iSpring Solutions, a leading eLearning software vendor, announced the groundbreaking update of iSpring Learn, its award-winning LMS.
Eukleia Launches Financial Crime Courses Tailored For North American Market
Eukleia's new North America-focused courses are aimed at firms wanting to reduce the rising impact of financial crime.
Over 25 Reasons To Visit The EI Design Website! Featuring New Videos And Interactive Demos
We have enriched our website by adding 25+ new videos and demos, including interactive demos on Virtual Reality and Branching Simulations.
Designing Effective eLearning Courses Using Gagne's Nine Events Of Instruction
The webinar Designing Effective eLearning Courses Using Gagne's Nine Events Of Instruction is sponsored by eLearning Industry and presented by Marina Arshavskiy, the owner of Your eLearning World. In this webinar, Marina will show you how to apply each one of the Gagne's Nine Events of Instruction to your eLearning course design. Stay tuned!
Let The Learner Lead: How Learning Technology Can Support Skills, Competencies, & Constructivism
The webinar Let The Learner Lead: How Learning Technology Can Support Skills, Competencies, & Constructivism is sponsored by eLearning Industry and presented by Katrina Marie Baker, Adobe's Senior Learning Evangelist. In this webinar, Katrina will discuss how to create a constructivist learning environment using learning technology.
Get Smart: Moving Your Learning Into The Workflow
Emerging learning technologies have changed the training landscape. Tune in on July 30th to hear from our VP Blake Beus on how cutting-edge tech embeds learning within the flow of work to improve performance.
Rapid Authoring Using Quick Start Projects And Out-Of-Box Interactions In Adobe Captivate
The webinar Rapid Authoring Using Quick Start Projects And Out-Of-Box Interactions In Adobe Captivate is sponsored by eLearning Industry and presented by Dr. Pooja Jaisingh, Adobe's Senior Learning Evangelist. In this webinar, Pooja will show you how to create visually appealing eLearning courses!
10th International Conference On eLearning 2019
The Belgrade Metropolitan University invites you to The 10th International Conference on eLearning that will be held on September 26-27, 2019 at Belgrade Metropolitan University, Belgrade, Serbia.
Digital Learning Experience Infographic
62% of students believe that digital learning technology somewhat or greatly increases engagement with course materials.
Practical Issues Of Framing Learning Objectives For Online Learning
What Are The Learning Objectives? A learning objective is a statement, in specific and measurable terms, that describes what learners will be able to do on completion of training.
The Importance Of Social Learning Integration In The Workplace
What Is Social Learning? It is learning through observation, imitation, or direct instruction.
10 Ways To Integrate Technology In Your Class
Run a virtual field trip. If location is out of reach due to logistical issues, you can simulate a virtual trip by using a wide variety of augmented reality apps.
Purpose Of Learning Objectives In eLearning
The creation or development of any eLearning course begins by defining the "goal" (i.e. keeping the end in mind).
See our full eLearning Archive