This Week's Best eLearning News and Articles (Issue 290)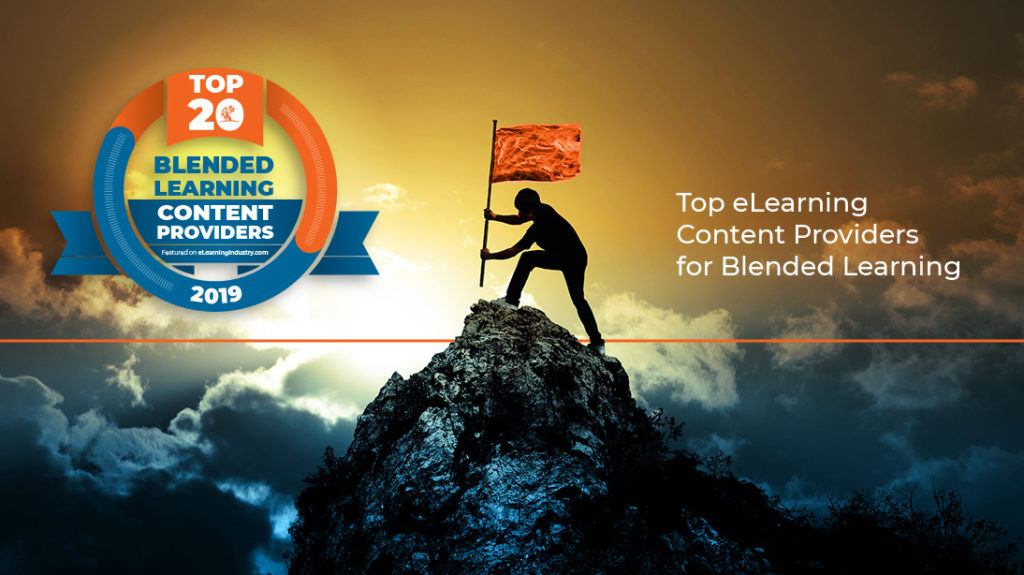 Top eLearning Content Providers For Blended Learning 2019
We are delighted to be able to announce a new list. A brand new list of Top eLearning Content Providers for Blended Learning 2019. Through a variety of means of researching the market, we compiled a list of some high-end players who can no longer be ignored when it comes to blended learning. From the strategies they profess to the content they produce, the candidates on the following list contribute immensely to the eLearning field in professionalizing the industry. Here are our picks for 2019!
5 Tips For Delivering Your eLearning On Time
I have worked with many eLearning designers and developers over the years. I continue to be amazed at how much wasted time and effort there is in eLearning design and development.
Learner-Centric L&D: How To Align Your eLearning Team And Programs To Enhance Personalization
The default mode for online training materials is to express the developer's perspective. But if you really want to connect with your learners, how can you turn your online training content to face them?
Solving The Critical Skills Shortage With eLearning Solutions
Multiple surveys from the past several years have indicated that there's a gap between the skills employers need and the skills employees currently have.
5 Tips On How To Use eLearning To Switch Careers
Tired of your current job? Today's eLearning options allow you to learn new skills, build your resume, and pivot to find the right career for you. Set yourself up for eLearning success, and kick off your next big career move today.
6 Social Learning Tips To Enhance Your Blended Learning Strategy
Many companies are choosing the blended learning strategy because of its function for their employees. It combines eLearning and traditional in-person learning with different digital technologies. As the blended learning strategy is trending, it can also incorporate the social learning practice.
Tips To Tailor Your Training To A Multigenerational Workforce
Engaging every part of a multigenerational workforce is difficult. Here you'll find tips to help you build training that accomplishes your goal.
5 Secrets That Keep Your Content Marketing Strategy Fresh And Engaging For The eLearning Audience
Every content writer has to face the challenge of maintaining a steady production of original and compelling content ideas, which at times can be a tough mission. In this article, I'll delve into 5 secrets which can help you generate fresh content to draw attention from the eLearning audience, without blocking out.
How To Enhance The Impact Of Your Mobile Learning Strategy In 2019
With the maturing of mobile learning, the focus shifts on how to maximize its potential. In this article, I showcase approaches that will help you enhance the impact of your mobile learning strategy in 2019.
6 Creative Ways To Incorporate Plot Twists Into Your Compliance Online Training Course
Everyone likes a good twist ending that challenges preconceived notions. But how can you incorporate this popular literary device into your compliance online training to catch employees off guard?
6 Warning Signs You Need To Switch To A Self-Hosted LMS
Self-hosted LMSs are a thing of the past. Or, maybe they are the solution you need to reclaim your data and scale your training for business growth. Discover the top 6 signs that will help you figure out whether an on-premise LMS is the best fit for your enterprise.
10 Do's And Don'ts For A Successful Mobile LMS Implementation
Here are the 10 things you need to do (and the things you need to avoid) to ensure you have a successful mobile LMS implementation.
Optimize B2B Lead Generation Process With Marketing Automation
Marketing your eBook depends on reaching to the right customers with the right message. How can you enhance your B2B lead generation process to transform eBook downloads into high-quality conversions?
The Impact Of Foundation Skills Training On Your ROI
Foundation skills programmes cover the core skill sets that underpin business literacy. They're the skills all employees ideally need to have. But how effective is foundation skills training in developing those skills, and how can you ensure it makes maximum impact?
7 Reasons To Integrate Microlearning Nuggets Into Your Mobile Learning Strategy
You can't talk about mobile learning without considering microlearning. But why is it so talked about in L&D? And what significance does it hold for your mobile learning strategy?
Marketing Automation 101
When you have to plan, build and execute marketing funnels, you're tapping into the potential of one of the most powerful resources in the marketing sector: marketing automation. But what is it really? How can someone define it today?
How Blended Learning Can Save Trainers/Instructors From Oblivion
Blended Learning is a superior learning methodology which combines the benefits of both eLearning as well as instructor-led training. It offers a chance to trainers/instructors to stay relevant in the future as more and more corporate organizations transition to eLearning.
The Culture Conundrum
The culture conundrum refers to the question of how to develop and maintain an organization culture that will facilitate the delivery of sustainable stellar performance. Indeed, given dramatic changes in the nature of organizations, is the concept of culture still relevant? If not, then what?
6 Tips To Streamline Global Communication And Project Planning With A Collaborative LMS
Human beings talk all day but that doesn't mean they are communicating. How can we ensure effective corporate messaging when there's a geographical barrier to boot?
LEO Learning Named On Top 20 Gamification Companies List
The honor is the latest in a string of accolades received by LEO Learning from Training Industry, including recognition as a top training outsourcing and content development company.
LearnWorlds Raises $1.1 Million For Effective And Enjoyable Learning Experiences
Celebrating 1000 customers in over 70 countries, the company today announces an investment by Marathon Venture Capital, to accelerate the growth of its innovative online training platform.
EI Design Publishes A Free eBook On Updated eLearning Trends In 2019 – Packed With Ideas You Can Use To Enhance Your Learning Strategy
As we hit mid-year, you are possibly looking at accelerating your training investments in CY 2019. To help you enhance your learning strategy, EI Design has published a free eBook on Updated eLearning Trends in 2019, packed with ideas you can't miss!
LEO Learning Celebrates 5th Year Of Innovative Digital Learning
LEO Learning, the global market leader in digital learning innovation, is celebrating its fifth birthday this July.
GuyKat Names New COO To Drive Expansion
Mark Broadbent has been named Chief Operating Officer by GuyKat. The new role will focus on leading the eLearning agency's aggressive expansion plans.
Rapid Authoring Using Quick Start Projects And Out-Of-Box Interactions In Adobe Captivate
The webinar Rapid Authoring Using Quick Start Projects And Out-Of-Box Interactions In Adobe Captivate is sponsored by eLearning Industry and presented by Dr. Pooja Jaisingh, Adobe's Senior Learning Evangelist. In this webinar, Pooja will show you how to create visually appealing eLearning courses
Structured for Success: Organizing a Global Training Team & Program
The webinar Structured for Success: Organizing a Global Training Team & Program is sponsored by eLearning Industry and presented by Katrina Marie Baker, Adobe's Senior Learning Evangelist. In this webinar, Katrina will show you how L&D leaders can organize efficient global training programs!
10th International Conference On eLearning 2019
The Belgrade Metropolitan University invites you to The 10th International Conference on eLearning that will be held on September 26-27, 2019 at Belgrade Metropolitan University, Belgrade, Serbia.
innovedCon 2019
If you're searching for experiences to spark inspiration and ignite a new passion for higher ed online learning, then put innovedCon on the top of your 'Amazing Conferences I Need to Attend' list.
Learning Pool Live 2019
At Learning Pool Live, we promise you an experience that you won't forget. Join industry pioneers, and hundreds of your peers for a day of innovation, idea sharing and the latest in learning strategies.
Why Choose Microlearning For Refresher Training?
When an employee needs to execute a task but does not remember how, 2-3 minute microlearning modules act as performance support tools.
10 Microlearning Benefits Learners Can't Ignore
Organizations appreciate microlearning due to its ability to plug various gaps in their training framework. Let us now see how microlearning can help learners in your organization.
Classroom Training And eLearning: Why Blending Them Is The Right Choice
Classroom training and eLearning each have their own strengths and limitations.
8 Latest Digital Marketing Trends To Witness In 2019
Check out the latest 8 digital marketing trends in this infographic that you should follow in 2019 and beyond to get the maximum benefits from digital marketing.
Digital Learning Experience Infographic
62% of students believe that digital learning technology somewhat or greatly increases engagement with course materials.
See our full eLearning Archive