This Week's Best eLearning News and Articles (Issue 293)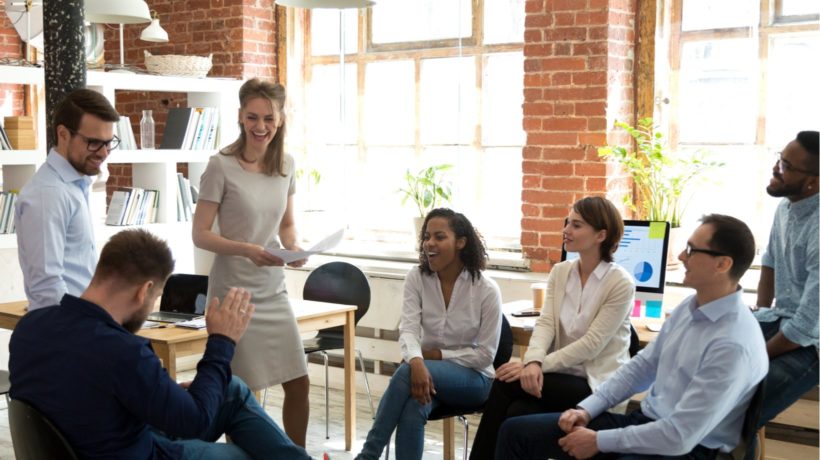 Free eBook: Establishing A Learner-First Training Model
Always focusing on the learner is the first priority and what makes a learner-first training approach so effective. If the learner is at the core of your company's learning goals, it makes total sense to build training around their learning pathways; from the tools they use to the design of the training itself.
Why Client Engagement Matters To Your Online Course Business
How much more profitable would your online course business be if you could significantly cut back on marketing because you're retaining existing clients and upselling more clients?
6 Learning Activities Τo Include Ιn Your Behaviour Change Journey
Learning activities can be anything from quizzes to events, from clubs to challenges. There are plenty of learning activities to spice up your behaviour change journey. In this blog, we bring together some of our absolute favourites!
How Do You Design An Efficient eLearning Course?
It may sound counter-intuitive, but designing Efficient learning is more work. It's easier to make a course that has everything but the kitchen sink. To create a streamlined and well-organized course, you need to consider how to achieve the business goal in the least amount of time for the learners.
6 Top Concerns Your L&D Team Has About The New Blended Learning Platform, And Tips To Ease Them Into A Blended Learning LMS
From a practical perspective, blended learning is an ideal solution to online training challenges. But there are still some barriers, so how do you identify and resolve them?
7 Tips For Creating A Mobile Learning Strategy
Creating mobile learning that matters can be difficult to do, especially if you don't know the best tips to use. Well, it turns out that designing mobile learning may not be as difficult and daunting as you would have thought.
6 Questions To Ask Before Adopting Personalized Learning For Employee Training
Personalized training is a great approach to provide highly relevant content to learners, and one that matches their proficiency and interest. In this article, I address 6 key questions that may arise as you adopt personalized learning for employee training.
5 Mobile-Friendly Benefits An Employee Onboarding App Brings To Your New Recruits
These days, everything is going mobile, including work-place training. What are the specific advantages for new hires though? And how can you implement a mobile-friendly onboarding app that benefits your newest team members?
What's The Best Type Of Content For The 21st-Century Learner, And How Do You Deliver It?
Today, learners live and work in fast-paced, high-pressure environments. So, it's only natural that your learning content must adapt if it's going to remain effective. Discover the top types of eLearning content you should be creating for modern-day learners.
6 Reasons To Search For A Mobile LMS With Advanced Reporting Features
Here are just 6 of the reasons that a reporting system needs to be at the front of your mind when searching for the perfect mobile LMS.
Using Powerful LMS Reporting To Enhance Mobile Learning Content Delivery
Understanding the best content for learner engagement starts with reliable reporting. What metrics should you be looking out for within your LMS? How can these metrics shape your mobile learning content moving forward? Find out more below.
Why Projects Fail And How Organizations Can Resolve These Issues
The global success rate for a project undertaken by an organization is 33%—a disgracefully low number. But, what are the reasons behind a project's failure and how can they be resolved? In this article, we'll discuss this.
5 Ways To Define Your Extended Enterprise Learning Strategy
No matter how strong your intent, if your organization's extended enterprise learning strategy isn't concrete and well-planned, you'll struggle to reach your goals. Investing time in building a defined strategy will help you achieve your extended enterprise learning targets.
3 Important eLearning Tools You Definitely Need To Create A "Symphony In Learning"
There are several approaches you can take in order to ensure symphony in learning. However, the three main ways consist of assessments, mind maps, and videos. The value of each element individually or altogether combined is truly astounding. The 3 techniques can even complement each other and compound over time if applied correctly. Keep reading more about these specific methodologies.
Organization Development Precedes Employee Development: 6 Ms For Success
Survey-guided organization development can provide your LMS with an ongoing, systematic, holistic and informed approach to ensure that your organization is constantly evolving to meet new challenges. The 6 "musts" for success are mindset, a model, methodology, measurement, mapping, and motivation.
6 Top Online Training Software Features To Look For
Deciding to switch from traditional to online training for your organization is a big step. But once you've finally made the leap, how do you decide which online training software to buy? In this article, I'll highlight the top 6 features to look for in your next online training software.
Missing The Mark: Learning Must Step Up… Or Step Out
Many practitioners continue to miss the mark and miss opportunities to show learning can make a measurable and positive difference. Don't believe me? Here are some recent real-life examples.
Learning How To Swim…
How many micro-videos one must watch before they can swim? Or maybe a laminated job aid?
Personalize The eLearning Experience Through A Culture Of Empathy
Of all the skills you need to engage and make sure that knowledge is retained by the learners, empathy is a vital skill. Especially for anyone seeking to create eLearning that really connects and resonates with learners.
6 Tips To Use Employee Training Software To Improve Profit Margins
The main goal of any successful business is to increase profits and widen its client base. How is it possible to achieve both goals by putting your employees in front of a screen?
5 Expenses Online Training Software Can Eliminate
In theory, studying online can save a lot of money for individuals who want to advance their education. Does the same apply to a corporate class setting, or is it a technological urban legend?
PeopleFluent Recognized In Performance Management Solutions Report
PeopleFluent has been recognized as a balanced performance management solutions provider, offering all 14 of the advanced capabilities needed to improve the workforce experience and process efficiency.
Summit Awards Honors AllenComm Compliance And Onboarding Courses
AllenComm takes home 3 Summit Creative Awards for client compliance training and onboarding projects.
SweetRush Wins 3 Digital Health Awards For Diverse Work
The 2019 Digital Health Awards honored SweetRush's creativity and innovation in a variety of projects for diverse learners.
NetDimensions LMS 15.0 Enhances User Experience, Increases Optimization
PeopleFluent's latest LMS release offers an enhanced User Experience for organizations hosting, tracking and measuring learning in high-consequence industries.
AllenComm Tops Learning And Development Industry Lists For The Fifth Year
AllenComm announces 2 new industry awards for blended learning and gamification.
The Softer Side Of Compliance Training: Reimagining For Impact
Join us Wednesday, August 28th at 11 AM (MST) to discover how to fine-tune your compliance training content to align with your learners' values and increase engagement and loyalty.
The Best Of DevLearn – The Modern L&D Toolkit: Where Does Gamification Fit?
Explore the innovative ways businesses are using game-based mechanics, aesthetics, and game thinking to impact employees from day one: onboarding.
How Organizations Are Using Digital Learning Τo Have Α Positive Impact Οn Society
The webinar How Organizations Are Using Digital Learning Τo Have Α Positive Impact Οn Society is sponsored by eLearning Industry and presented by Allison Martin, Head of Docebo Academy. In this webinar, you will learn how extending the impact of your learning platform can have a positive effect on society as well. Stay tuned!
Two Client Case Studies: Building Effective L&D Teams For Rapid Development
The webinar Two Client Case Studies: Building Effective L&D Teams For Rapid Development is sponsored by eLearning Industry and presented by Rodrigo Salazar, leader of Talent Solutions Services at SweetRush. In this webinar, Rodrigo Salazar will share two successful real-life stories to showcase how you can benefit from an effective learning and development strategy. Stay tuned!
Mobile eLearning – Create True Responsive Content Using Ready-To-Go Slides And Fluid Boxes
The webinar Mobile eLearning – Create True Responsive Content Using Ready-To-Go Slides And Fluid Boxes is sponsored by eLearning Industry and presented by Pooja Jaisingh, Adobe's Senior Learning Evangelist. In this webinar, Pooja will show you how to create responsive content for your mobile eLearning courses in Adobe Captivate!
See our full eLearning Archive