This Week's Best eLearning News and Articles (Issue 297)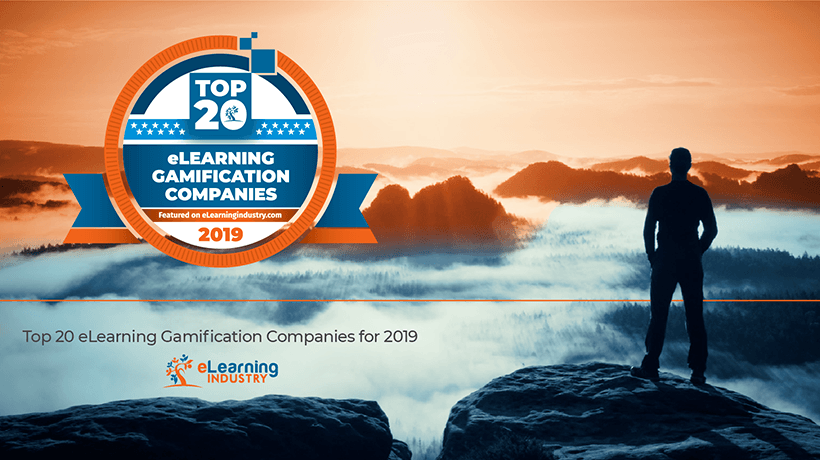 Top eLearning Gamification Companies 2019
We are super excited to announce our list of Top eLearning Gamification Companies 2019. It's going be a first for us, so it's going to be a first for you. But we are sure that we have compiled the most influential parties in the gamification industry. If you want to stay in the know, here are our picks for 2019!
The Benefits Of Designing Custom eLearning That Is Attainable And Void Of Obstacles
An Accessible eLearning course is one that all learners in the target audience can access anywhere, on any device, and without obstacles. The content is easy to understand and can be attained without difficulty.
6 Online Training Software Costs To Consider
In the corporate world, decisions are based on how much they will cost the company. It all boils down to profit and loss. What key budgetary factors will you consider before you make the switch to online training software?
Gamification Trends In 2019 – Packed With Tips And Ideas You Can Use
Gamification for serious learning has been used for nearly a decade but there is still a question mark on its impact and ROI. In this article, I outline the value it offers and lists 5 key Gamification trends, packed with tips and ideas you can use.
The Pros And Cons Of Small ILT Classes
One of the most celebrated characteristics of online Instructor-Led Training classes is that they can be offered to an infinite number of employees, all at the same time. But what if the negative effects of large physical class sizes apply to online ILT, too? Is less still more?
6 Key Factors For Effective Mobile LMS Implementation On A Budget
Discover the best way to implement your dream mobile LMS while sticking to a budget.
Maximizing Mobile Learning ROI With A Mobile-Friendly LMS
Mobile learning is becoming increasingly important in the world of Learning and Development. The need for a mobile-friendly LMS should be clear, but what is its impact on learning ROI? Find out more below.
5 Reasons Why Your Employees Are Unable To Apply eLearning In The Real World
eLearning is deemed to be the future of education. It has a proven track record of boosting knowledge retention of employees by a fat percentage as compared to any other learning methodology.
3 Common Extended Enterprise LMS Challenges And How To Overcome Them
When managing and delivering your extended enterprise training, there are some obstacles your organization will have to consider and potentially overcome. Here's how you can do just that with the help of an LMS.
Key Features Of A Meaningful eLearning Course
There are several ways to make sure that your course is relevant to the needs of the person who has to take them. But determining the shape and form of your eLearning courses to make them truly meaningful is far from easy.
Outsourcing Custom eLearning Development: Ensure The Right Start With 4 Essential Steps
Before you outsource custom eLearning development to overseas eLearning vendors, there are certain measures to be taken to ensure a smooth process. This article discusses 4 essential steps to follow before you start outsourcing your custom eLearning development.
6 Ways Simulation Training Improves Employee Performance
Every training solution should aim to increase the performance of employees. However, companies often struggle with determining which delivery will impact performance most effectively. In this article, I share 6 ways that simulation training can improve performance for your workforce.
Webinars: High-Quality Leads, Valuable Partnerships, And No Boundaries
By implementing webinars, you can teach and network—and at the same time, meet many of your most important marketing goals. How can you boost your lead generation and how can you learn to make the most of high-quality leads?
Microlearning On Steroids–Meet Blended Learning
Learn how to make microlearning more effective by adding face-to-face components.
Why Compliance Training Is Good For Your Bottom Line
Compliance training is a powerful tool for lowering the cost of doing business. Steer clear of costly lawsuits, regulatory fines, and the expense of inefficiency.
Live Online Learning: What Are The Differences Between A Webinar And A Virtual Classroom?
Webinars and virtual classrooms are different—but how? And does that affect the number of people, what you can cover, and how to run a session?
Gamification In Education: A New Type Of Interactive Learning
Gamification has a particularly important application in the educational sphere. Sometimes, it gets hard for students to motivate themselves, just as it is hard for educators to motivate students. This is where gamification comes in.
How Behavioral Science Can Improve Your Training
Behavioral change is the ultimate goal of corporate training. Behavioral science can give you keen insights to help you achieve that goal.
6 Ways A Blended Learning LMS Redefines Instructor And Facilitator Roles In Compliance Online Training
In your typical training environment, the facilitator holds the reins and steers their charges. What's the difference in blended learning trainers, and how do they affect compliance in this new capacity?
Onboarding Systems Checklist: 6 Crucial Features To Look For In Your New Employee Onboarding Software
Your orientation and onboarding program could be the very thing that determines whether new hires show up on Day Two. What key features can give you this guarantee?
LEO Learning Included In Top 20 eLearning Gamification Companies List
The Top 20 listing is the latest in a long line of recognition of LEO Learning's expertise in learning games and gamification.
Communities In Schools And AllenComm Collaborate To Win Training Awards
Communities In Schools and AllenComm win awards for a leadership course for schools in need.
EMMA By Unicheck Is Live: A Pioneering Solution To Contract Cheating
Unicheck, plagiarism and cheating prevention software, has released EMMA, an AI-based authorship verification assistant. With EMMA, educators can spend less time grading papers, and students can become motivated to enhance their writing skills.
The New Course Selling Platform By iSpring
iSpring introduces Flora LMS, the platform to host, market, and sell training content online. Now training companies, educators, and entrepreneurs can quickly launch a course marketplace with a catalog, shopping cart, user management, and statistics.
For The 4th Time, SweetRush Is A Stevie Awards For Great Employers' Finalist
The Stevie Awards for Great Employers 2019 competition is SweetRush's fourth consecutive nomination in the Leadership or Skills Development Solution Provider of the Year category. Its Gold, Silver, or Bronze award will be announced on September 20.
Organizing And Automating Your Curriculum: From Automated Learning Paths To xAPI
The webinar Organizing Αnd Automating Υour Curriculum: From Automated Learning Paths Τo xAPI is sponsored by eLearning Industry and presented by Katrina Marie Baker, Adobe's Senior Learning Evangelist. In this webinar, Katrina will show you how to organize and build effective learning paths and programs.
10th International Conference On eLearning 2019
The Belgrade Metropolitan University invites you to The 10th International Conference on eLearning that will be held on September 26-27, 2019 at Belgrade Metropolitan University, Belgrade, Serbia.
Fuel Your Business's Growth With Extended Enterprise Training
The webinar Fuel Your Business's Growth With Extended Enterprise Training is sponsored by eLearning Industry and presented by Phily Hayes, LearnUpon's Outbound Sales Manager. In this webinar, you will learn how to increase your business's growth by creating extended enterprise training programs. Stay tuned!
innovedCon 2019
If you're searching for experiences to spark inspiration and ignite a new passion for higher ed online learning, then put innovedCon on the top of your 'Amazing Conferences I Need to Attend' list.
Microlearning In Action – Tips, Techniques, And Examples On How To Use It To Drive Employee Performance
The webinar "Microlearning In Action – Tips, Techniques, And Examples On How To Use It To Drive Employee Performance" is sponsored by eLearning Industry and presented by Asha Pandey, Chief Learning Strategist at EI Design.
See our full eLearning Archive